Empty shelves at grocery stores across the United States is a rare scene that so many of us are witnessing amidst the COVID-19 pandemic. Popular items disappearing at my local grocery store include meat, milk, eggs, bread and toilet paper. In this time of great uncertainty, the Animal Agriculture Alliance would like to thank the farmers, ranchers, packers, processors, restaurants, retailers and everyone in the agriculture and food communities for keeping the supply chain flowing and shelves stocked with safe, nutritious food.
Show America what you do best and be the best version of yourself while doing it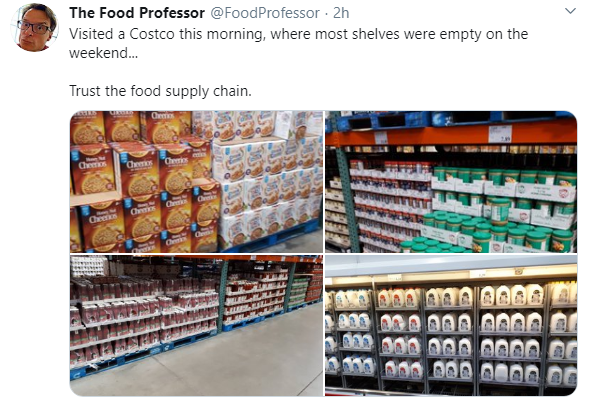 While much of America is closed for business, farms and ranches remain open (along with other essential businesses that help keep us safe, healthy and fed). Still, people are understandably concerned about the empty shelves and if they will have enough food for their families in the upcoming weeks. The agriculture community should take this opportunity to extend an olive branch to the public and assure people that they can rely on American agriculture to keep the supply chain flowing. This is not a time to hit people when they're already down. This is not a time to gloat about how "essential" our industry is or poke fun at people for not understanding how farming works or for taking our safe, abundant and affordable food supply for granted. Now is the time for the agriculture and food communities to show America what you do best and be the best version of yourself while doing it.
A light is starting to shine on agriculture
The Department of Homeland Security deemed food and agriculture workers as "essential critical infrastructure workers" during this pandemic. While this may not be surprising to farmers, restaurant workers, food processing workers, truck drivers and others along the supply chain, it puts a spotlight on food and agriculture. For years the agriculture community has been fighting constant misinformation about how food is produced and now people are looking to the agriculture and food communities for answers in these confusing times. It is important to show people that they can trust the supply chain to get them the meat, dairy and poultry that they are wanting to meet their families' nutritional needs.
Many people are at home and relying on social media more than ever to feel connected to others while practicing social/physical distancing. To ensure the light starting to shine on agriculture stays bright, we must communicate in a way that shows America not only how dedicated the agriculture and food communities are to keeping shelves stocked, but how those in the agriculture and food communities are people too. Try connecting with people online to share your story. We are all going through this crisis together and probably have a lot more in common with each other than we think.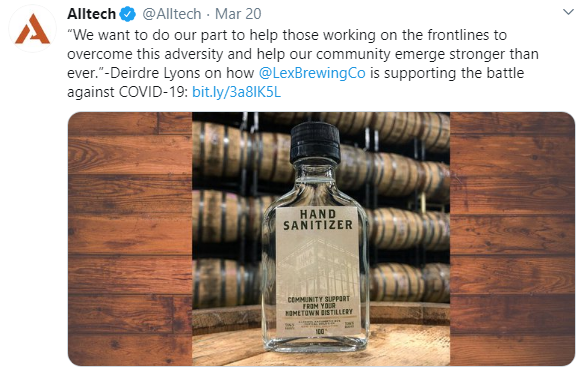 People are also looking for positive stories and a bright side in a time when there is so much uncertainty in the world. I believe farmers, ranchers, restaurants, retailers and other supply chain partners have a good story to share as they adapt to meet increased demand. Alltech, a global animal health company and Alliance member has transitioned its Lexington Brewing & Distilling Company to make hand sanitizer. The retail community is restocking shelves as fast as possible, limiting sales on high-demand items and establishing special shopping hours for those most vulnerable to COVID-19. Dietitians, including Leah McGrath, Nicole Rodriguez and Rosanne Rust are posting easy and nutritious recipes on social media using the hashtag #QuarantineKitchen to help families cooking at home. These are just a few examples of people and companies stepping up to help their communities in this time of need.
Show America we are in this together
We are all in this together and we will have stronger relationships afterwards *if* we extend that olive branch and engage with people in a positive way during these unprecedented times. Each part of the supply chain has a role in getting food from farms to families' tables. Let's be the best version of ourselves when the country is counting on us the most and remember to continue long after this crisis ends.
All posts are the opinion of the author and do not necessarily represent the view of the Animal Ag Alliance.