Every so often some of my non-farming relatives visit my family's dairy farm. My younger cousins always insist on seeing the cows. Last time they visited, one of them asked if cows really have four stomachs?
It's a pretty common misconception that cows have four stomachs. Their digestive anatomy is rather complicated. Anyone who has ever taken a ruminant animal nutrition class can attest to this. Cows and other ruminants (sheep, goats, deer, bison, etc.) have one stomach with four compartments: the rumen, reticulum, omasum, and abomasum.
WHAT ARE RUMINANTS?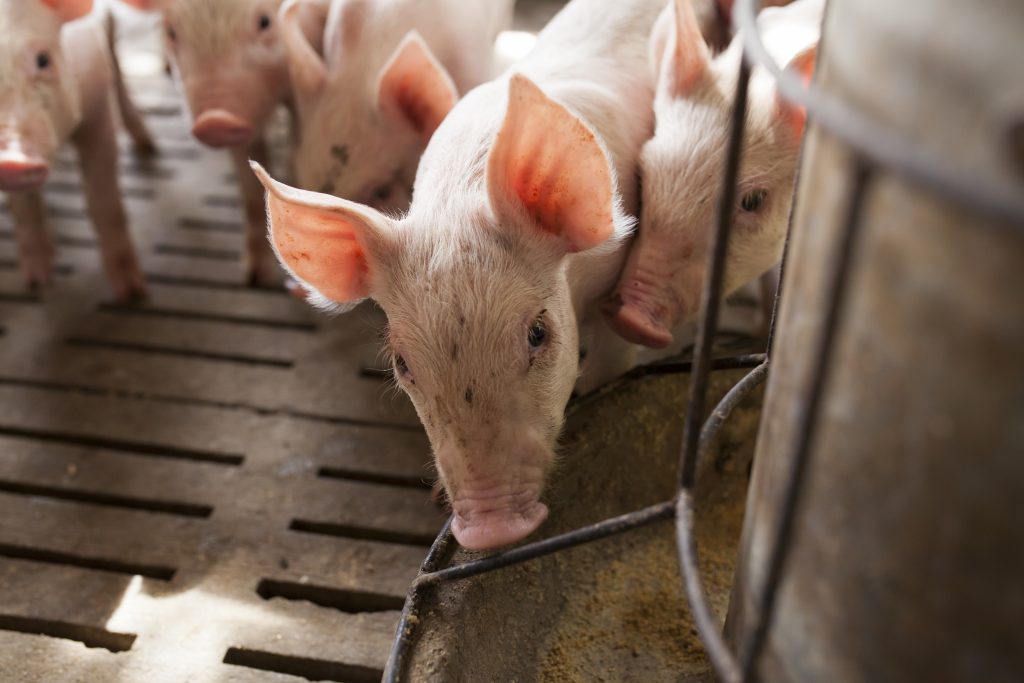 There are many different types of animal digestive systems. Ruminants are hoofed herbivorous mammals that acquire the nutrients from their feed by fermenting it in a special stomach compartment, called the rumen. This allows them to digest fibrous plants, such as grasses and legumes. Ruminants are sometimes called foregut fermenters because they ferment their feed before the nutrients are absorbed in the small intestine.
Ever wonder why we can't digest grass? That's because we have a monogastric (single-chambered stomach) system, similar to pigs, cats, and dogs. This single stomach uses acid to break down food. This doesn't work very well at taking the nutrients out of fibrous plants. Monogastric animals are very good at eating feed that is high in energy and low in fiber.
Pseudo-ruminants such as horses and rabbits only have one stomach compartment but are still able to digest lots of fibrous plants. They're called hindgut fermenters, because they ferment their feed after the small intestine in a pouch called the cecum, just off of the large intestine. They can only absorb a few nutrients, because they ferment their feed after the small intestine.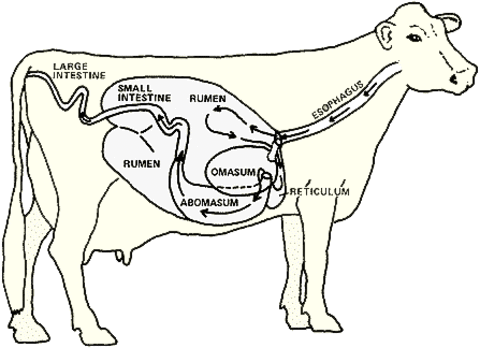 RUMEN
The largest stomach compartment of a cow is the rumen. Did you know it can hold 25 gallons or more of food? It's a giant fermentation vat! The microbes in the rumen digest via fermentation the feed that the animal eats. They break down fibrous plants to be absorbed by the lining of the rumen. This allows ruminants to upcycle nutrients in feedstuff that we cannot!
Animal nutritionists design the diets of animals to maximize the health, welfare, and performance of the animals. They incorporate by-products from other industries that would otherwise go to waste, such as almond hulls, cotton seeds, brewers' grains, distillers' grains, citrus pulp, and so much more! Ruminants can upgrade these otherwise wasted resources in high-quality meat, milk, and fiber. This helps to enhance the sustainability of ruminant agriculture.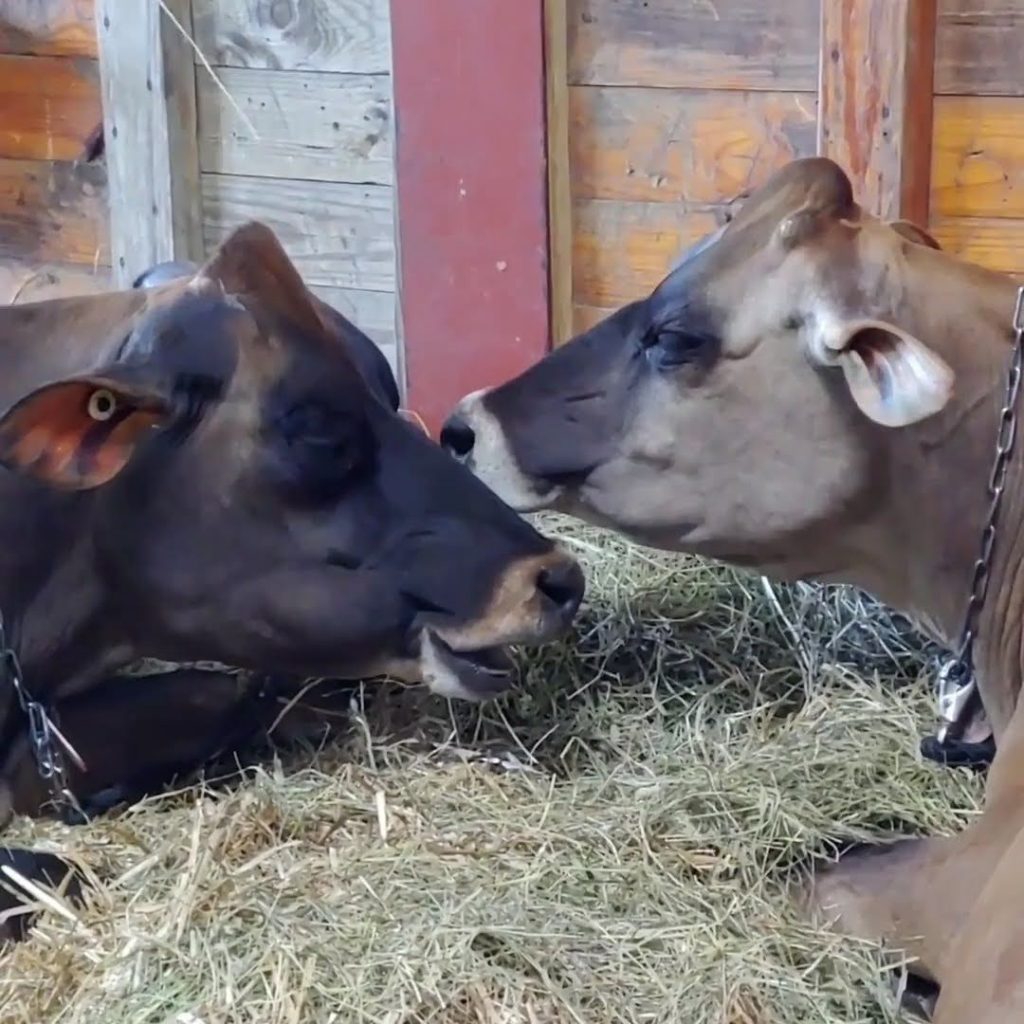 RETICULUM
The reticulum is a small pouch connected to the rumen. The inside has a honeycomb-like structure, which traps heavy feed particles for further digestion. The cud, a small bolus of partially digested feed, is formed here and in the rumen. When cows swallow their feed initially, they just soften it. The rumen breaks it down further then they regurgitate it to further chew it before swallowing it again. Cud chewing is a sign that a cow is getting enough fiber and is healthy and relaxed, so we're always on the lookout for it. Some farms even use sensors to measure this!
The reticulum is located right next to the heart. Heavy feed particles are trapped there, but if a cow eats a piece of metal, it can get trapped here too. If it punctures the lining it can cause a severe infection, called Hardware disease. We prevent this by being super careful when harvesting feed. Lots of harvesting equipment comes with metal detectors too. We can also give the cows magnets to reduce the risk. This is one of the reasons why it's super important that people don't litter, especially near agricultural fields and pastures.
OMASUM AND ABOMASUM
The next stomach compartment, the omasum, is globe-shaped with layers of tissue that looks like a book with lots of pages or a pile of towels. Similar to towels, it absorbs water and other nutrients from the feed. There's still more to learn, and ruminant nutrition is an area of ongoing innovation and research!
The last stomach compartment is the abomasum, or "true stomach." The abomasum is like our stomach and that of other monogastrics. It has glands that secrete acids and enzymes to digest feed. Next comes the small intestine, which absorbs more nutrients. After that is the large intestine, which primarily absorbs water and then forms manure. This manure is a natural fertilizer to nourish crops to feed animals and people, which completes the cycle all over again!
FARMERS KNOW BEST
As farmers, we have to know a lot about the science behind our cows in order to ensure they are happy and healthy. We take good care of them. It's not just about science, although I'm a total science geek. It's about the family. Dairy farming is my family's life and livelihood. It connects us all together, even my non-farming relatives enjoy learning about our farm. When in doubt, ask a farmer. You might learn some cool stuff to tell your friends and family.
All posts are the opinion of the author and do not necessarily represent the view of the Animal Ag Alliance.