Oink you glad it's Porktober? Not only is it finally starting to feel like fall with pumpkin spice everything hitting the stores, but it is also Pork Month! Farmers are dedicated to caring for their pigs so we can enjoy bacon next to our eggs every month of the year. Here are a few things to know about pig farming because bacon doesn't magically appear on our plates (although that would be awesome!).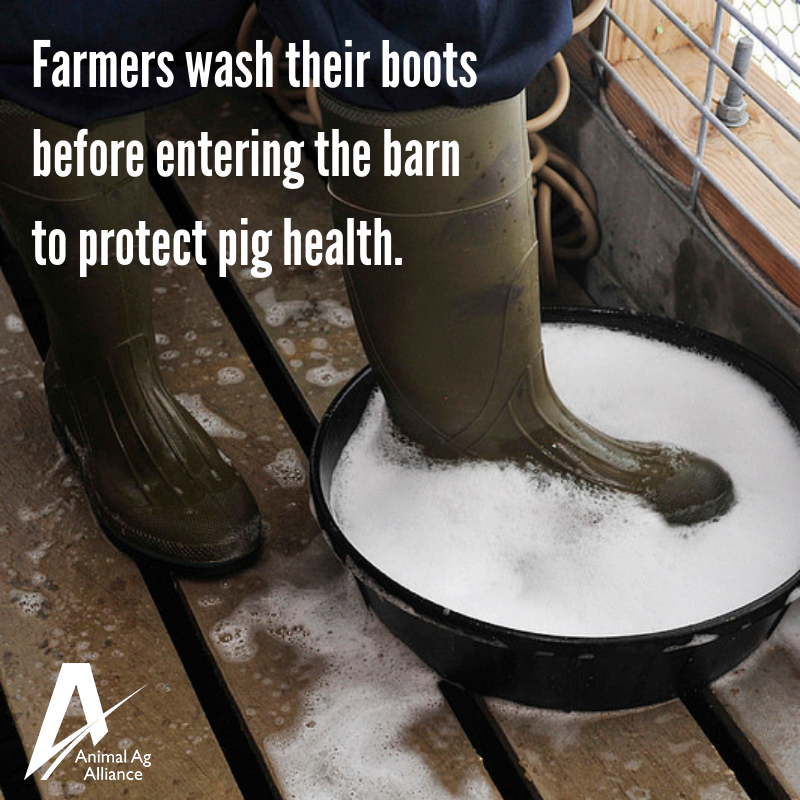 There are five common types of pig farms. Today's pig farms usually specialize in a certain period of the pigs' life cycle. The five types of pig farms are: farrow-to-finish, farrow-to-nursery, farrow-to-wean, wean-to-finish and finishing. There are 67,000 total pig farms in the United States!
Modern pig farms help farmers care for their pigs. Animal care is the number one priority for all farmers and modern farming systems allow farmers to embrace technology that allows them to take better care of their pigs. Temperature control, automatic water and feed dispensers and protection from predators are a few examples!
Pig barn floors a designed to keep things clean. Floors in pig barns are slatted to allow farmers to easily hose and clean up after the pigs!
All pigs are raised without added hormones! Some packaging labels claim that their pigs are raised without hormones, but ALL pigs are raised without added hormones. It is illegal to use added hormones in pig farming!
Pig farmers use less water, land and energy than ever before! Pig farmers live on or near the land that they farm, so they understand the importance of environmental stewardship. Between 1959-2009, pig farmers decreased land use by 78 percent and water use by 41 percent!
An adult female pig is called a sow. And a baby pig is a piglet; a young female pig that has not given birth is a gilt, a male pig is a boar and if castrated, barrow.
Farrowing stalls help protect piglets. Farrowing stalls allow farmers to help in the birth process and reduce the number of piglets accidentally laid on or stepped on by the sow.
Piglets are born with needle-teeth that are trimmed after birth. Farmers have learned more than a few things over the years, and one of them is to trim piglet teeth to prevent injuries to other piglets and the sow!
Heating lamps are used to keep piglets warm. Heating lamps help keep piglets warm in the farrowing stall while keeping the sow cool.
Pig farmers work closely with veterinarians to ensure their animals receive the best care. Farmers and veterinarians learn from each other on how to improve and best take care of their animals. Farmers work with veterinarians to have animal care and health management plans on each farm.
Pigs' ears are used for identification. The left ear identifies the pig number within its litter and the right ear signals the litter number.
Pigs eat a nutritionally-balanced diet every day. Pigs eat a grain-based diet of corn and soybean meal with wheat, barley, vitamins and minerals.
Pig farmers are on social media! That's right, pig farmers are on Facebook, Twitter and Instagram just like everyone else! Some farmers are very active on social media sharing their farm story and pig farmers are no exception. If you search the hashtag "#RealPigFarming" you can follow along with them and learn more about pig farming!
Americans love pork! Ok, I bet you did know that – BUT maybe you didn't know you can satisfy your pumpkin and pork craze at the same time! Here are few pumpkin-themed pork recipes for you to enjoy:
Happy Pork Month!
All posts are the opinion of the author and do not necessarily represent the view of the Animal Ag Alliance.