Alexis Main, graduate student at Oklahoma State University and 2021 College Aggies Online participant, shares what she's learned about biosecurity practices in the pig community. To read the original post, click here.
Have you ever wondered why the enclosed pig barns you see from the road while driving past are built that way? Did you ever wonder why swine farms have no trespassing signs or don't want people entering their property? Over the years, I have heard several people question farming practices because they did not know what was going on inside the pig farm. Other people, mainly from the internet, have spoken out strongly against farmers saying they must be doing something wrong since they didn't let people come inside the farm or see within the walls of the barns. Through learning about the industry and experiencing the precautionary measures myself, I know very well that these assumptions are not the case. For the health and overall welfare of the pigs, there are many steps in a biosecurity plan at each farm to limit the entry of pathogens the farm has not previously been exposed to.
Biosecurity isn't just for COVID-19
Several years ago, this concept would have been difficult to imagine, but with the recent lockdowns and quarantines we have all become way too familiar with, biosecurity is a concept many can now understand quite well. Imagine the inside of the farm is the inside of your house. While normally you would let people visit, you are not allowing them to come in or visit because they may be sick or may be carrying a disease or virus. It is just like that with the swine farm, but now imagine there being several very deadly diseases all at once that you are protecting against and there are even some airborne diseases that can travel up to 5 miles. Wouldn't that be scary? This is just one hat that hog farmers have to wear in order to protect their pigs from getting sick and dying from the illness they do not want on their farms.
Back in 2013, there was an outbreak of Porcine Epidemic Diarrhea virus (PEDv) across the United States which affected both piglets and adult pigs. It had a death rate of 50-100% of the infected piglets. This coronavirus (not kidding) would enter the farm, especially those with low biosecurity measures, on the tire of a truck, sole of a shoe or on clothes, in transport trailers, in feed or feed ingredients, etc. The infected pigs would begin to show signs within 2 to 4 days, and it would cause the pigs to vomit and have diarrhea, otherwise known as scours. This virus led the hogs, specifically baby pigs, to be extremely dehydrated. Despite all countermeasures taken to make them better, they would end up dying. Within 1 year, over 8 million piglets had died from the disease. This is where these precautions taken with biosecurity come into place. It is not 100% effective, but these protocols in place, as well as specialized facilities, substantially increase the chances of keeping out disease. It's like that old saying goes: "It's only as strong as its weakest link."
Biosecurity is an absolutely essential part of every swine farm. What the outside world sees is a fence and/or enclosed barns, but what they don't realize is that these facilities function to keep the pigs as healthy as possible, with decreased chances of harm from outside factors. The main goal is to help prevent the entry and spread of disease as best as possible. This is done by establishing an intricately laid plan to combat disease through collaboration with veterinarians.
On the farm
On a farm, the outside is considered the "dirty side," whereas the inside, or where the pigs are, is considered the "clean side." Biosecurity plans and precautions are unique to each farm but can include procedures such as "shower-in, shower out," "downtime" periods, filtered air, border fence, quarantine of new or sick pigs, disinfecting of trailers used to transport pigs, etc.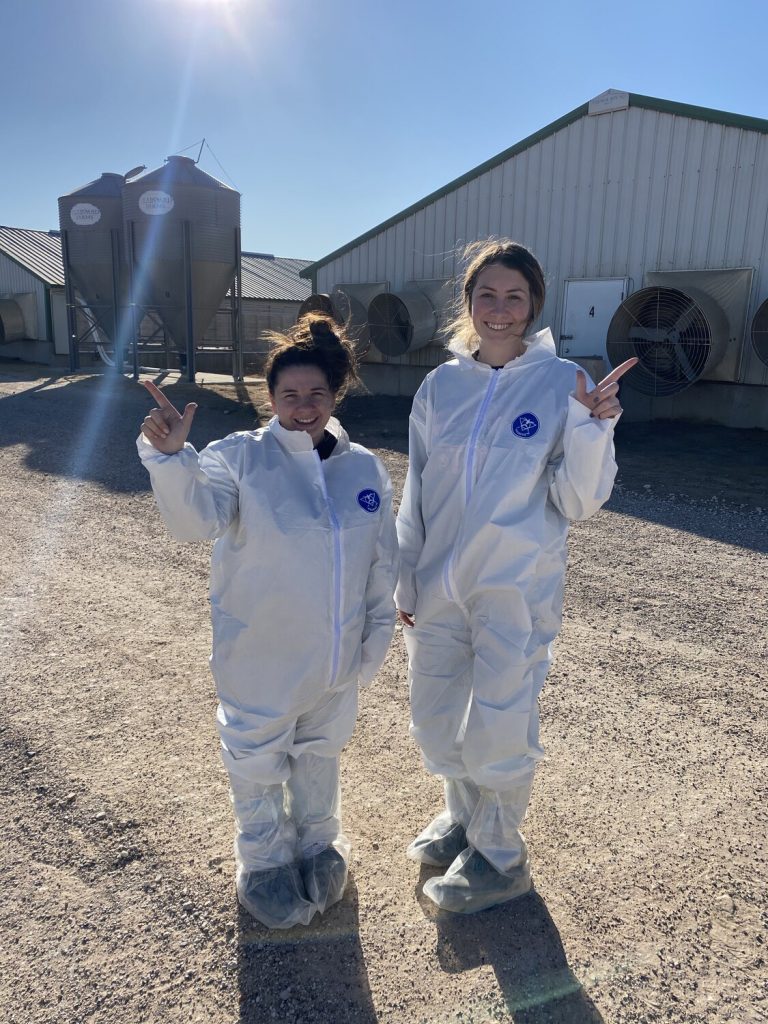 I had been on several swine breeding operations but had never stepped onto a large commercial farm before having an undergraduate internship. I was a "wintern" (winter intern) at Seaboard Foods in January 2020 and had the amazing opportunity to see these protocols in person. Seaboard Foods is the second-largest pork producer in the U.S. and the largest U.S.-owned pork producer. If you were to go to the grocery store, you may see their pork sold under the Prairie Fresh label.
Before arrival at the internship, we were required to sign a form stating we had not been to another farm or out of the country, and if we had, we had to observe a mandatory "downtime" prior to coming to Seaboard. This would allow time to ensure any potential pathogen would not be brought with us. Upon arrival at the farm, our group could not step out of the van without putting a "bootie" (boot cover) over our shoe, but the bootie could also not touch the inside of the van. This was to prevent cross-contamination. It would be counterproductive to have us put on the bootie but touch it to the van floor where our shoes had been. This was also to prevent us from bringing something back into the van later. We could see a border fence (not always necessary or implemented) around the farm, and it was explained as a way to keep wildlife out, as they can also be carriers of disease.
When we walked into the building, we signed in and then took off our shoes, keeping the bootie over them. My previous experience in my school barn and home operation had not required me to "shower in, shower out," so this protocol was new to me. Before we could enter the "clean side" of the farm, we had to shower and put on a whole new set of clean clothes provided by the farm. With our new outfits, we walked in the provided socks to the breakroom and got an orientation to the layout and operations of the farm. They explained portions of their biosecurity plans which covered many areas.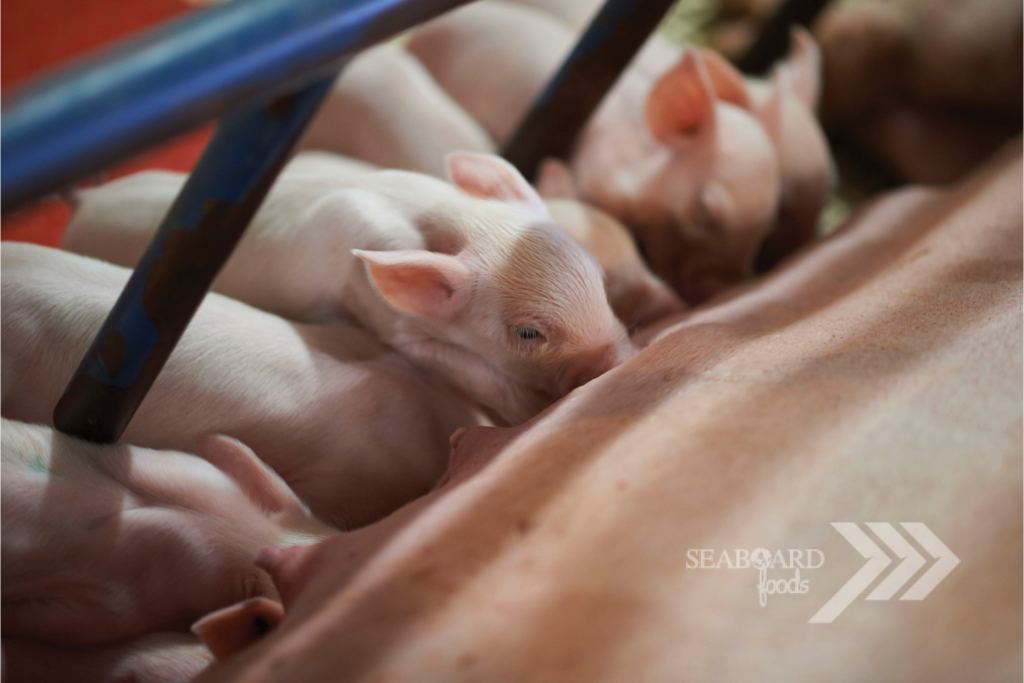 Before being led to the farrowing rooms, we had to put on Crocs in the back of the breakroom and transfer to boots just before entering the farrowing side. Farrowing is the term used for the act of pigs giving birth. There are additional precautions set on the clean side of the farm as well. Each room is completely cleaned before bringing in the next group of pigs. You wear one pair of boots on the farrowing side and disinfect them before entering the other barn where the pregnant pigs are. Entering the farrowing side first, was to ensure we would not bring anything over from the gestating pigs to the newborn piglets and get them sick. Before exiting the barns, we had to leave our provided clothes on the clean side prior to heading back through the showers to the outside again.
Practices that protect animal health
During our tour and time at Seaboard, it was explained that biosecurity plans go far beyond this, especially when it comes to the diseases producers fear most like African Swine Fever (ASF), PEDv, and Porcine Reproductive and Respiratory Syndrome virus (PRRS). Common precautions taken include:
Assigning an employee to one farm to limit cross-contamination of a multi-farm system
Move sick employees to a different farm that is of less risk
When visiting more than one farm, never go from a farm with sick pigs to a healthy farm
There are different levels of biosecurity at each phase of production. Employees can move down the levels from the higher biosecure farm to a lower-level farm all in one day, but cannot move the other direction. For example, you can go from a sow farm to a nursery or finisher farm, but not the other direction from a nursery or finisher to the sow farm. In other words, the piglets are at a higher risk level and therefore more biosecurity protocols surrounding them than the older animals in the production system.
Having a strong and effective vaccination program
Quarantine new pigs for a set period to prevent them from bringing in disease from elsewhere. These quarantine locations may be several miles away from the main location as to limit airborne pathogen travel from one to the next
"Baking" (disinfecting at high temperatures) the semi-trucks used for transportation of animals between each trailer load
Ensuring feed ingredients do not bring in disease
These measures are not to prevent you from knowing what goes on inside the farm. In fact, many producers have community outreach programs to try to educate and inform the consumer about their management and production practices. When hearing claims about farms and producers in any area of the agricultural industry, I encourage you to contact a farmer and ask them about the practice in question. Find out why it is used and what the underlying meaning of it is before making assumptions about welfare and management practices. Everyone should care about where their food comes from. Farmers care about their animals and their well-being. They want them to be safe from pathogens or outside harm, so biosecurity protocols are the first step to a healthy and successful swine farm.
All posts are the opinion of the author and do not necessarily represent the view of the Animal Ag Alliance.