Every year my family and I show dairy cattle at our county and regional fairs. It's a lot of fun and satisfying hard work. It's also an excellent opportunity for the public to see our cows in person and ask questions. One of the most common questions I hear is "Why do your cows look so skinny?"
My first response is that cows are athletes. Like athletes, they come in different shapes and sizes that fit with what they do.
A COW IS NOT JUST A COW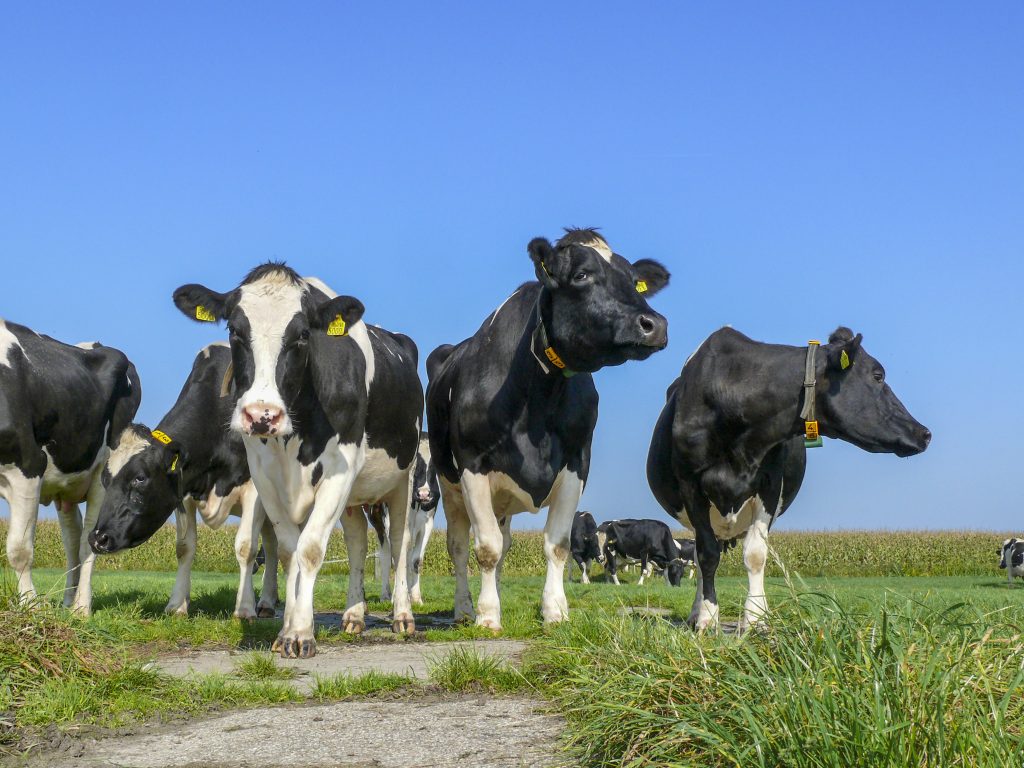 There are two main types of cows: dairy and beef. Cows come in hundreds of different breeds, just like dogs do. Different breeds look different with different attributes. A greyhound doesn't look like a mastiff and vice versa. Greyhounds are well-known to be aerodynamic racers, while mastiffs are strong protectors.
The same thing applies with cattle. Dairy cows are known for making milk, and they are lighter-set like a greyhound. They're also lean-muscled, much like a sprinter. They're not skinny; they're fit! They use most of the energy in their feed to produce milk. Fun fact: the average U.S. dairy cow makes about 8 gallons per day or 2,500 gallons per year!
One of the most popular dairy breeds is the Holstein (large, black, and white), which give more milk than other dairy cows. Another popular dairy cow is the Jersey (small, fawn-colored) – my personal favorite, which produces milk that is high in butterfat and protein. Jersey milk is great for making cheese!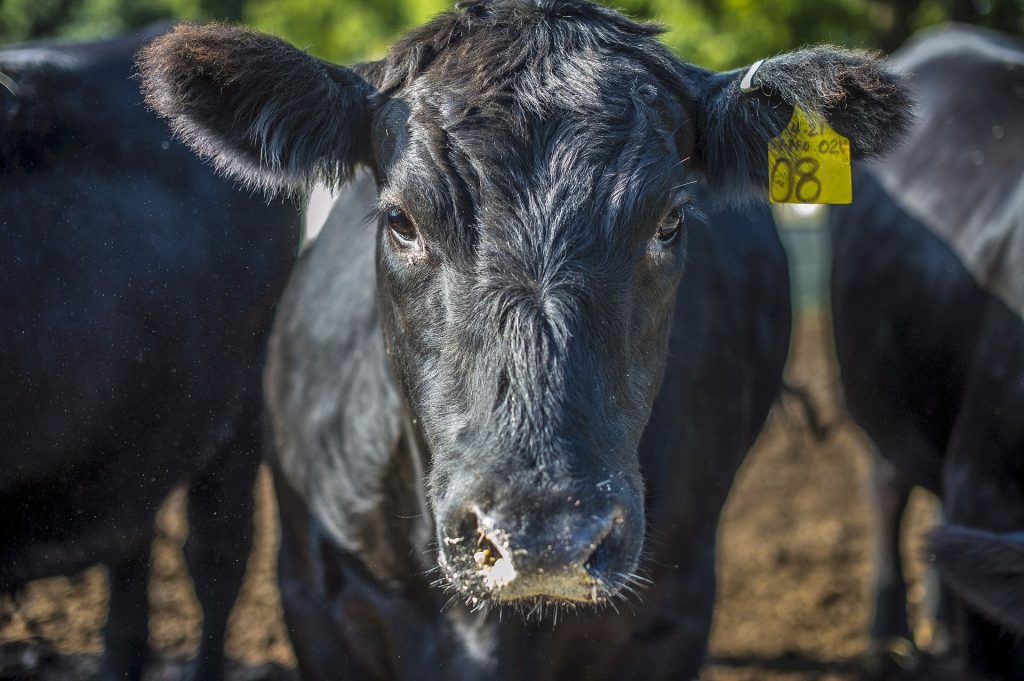 Beef cattle on the other hand are known for producing high-quality meat. They are heavier-set, like a mastiff. They are also heavily muscled, much like a power-lifter. They're not fat; they're buff! While dairy cows do produce some beef, beef cattle are really good at converting their feed into muscle with a bit of fat. Beef cows still make milk, but much less than dairy cows, at about 1 ½ gallons per day.
One of the most popular beef breeds is the Black Angus (solid black), which are good mothers and extra efficient at converting feed to high-quality meat. Another popular beef cattle breed is the Charolais (white, or creamy white), which have high cold tolerance.
COW CHOW
Making sure cows have a well-rounded, healthy diet is a top priority for farmers and ranchers. Like athletes, cows have specially designed diets to optimize health, well-being, and performance. Animal nutritionists are the sports nutritionists of the cow world. Dairy cows put most of their calories into milk rather than fat. Our dairy cows eat a lot of feed every day, but instead of converting this to muscle and fat like a beef steer, they put this energy into making milk.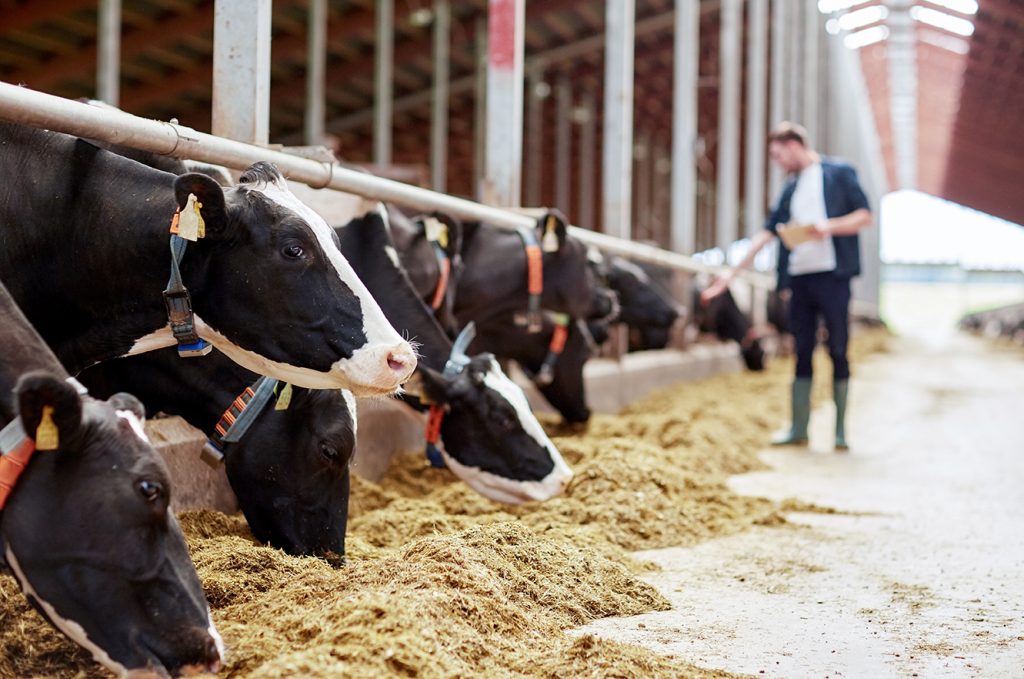 Not only are our cows athletes but they're also superheroes. With the help of animal nutritionists, farmers are able to incorporate the byproducts of other industries into the diet of their cattle. Cows are the ultimate upcyclers. They take inedible byproducts that would otherwise go to waste and upgrade them into nutritious high-quality meat and milk. This helps to increase the sustainability of both dairy and beef cattle.
By-products make up a large portion of a cow's diet. The Food and Drug Administration (FDA) and the U.S. Department of Agriculture (USDA) regulate by-product feeds for safety and nutrition. These byproducts often vary by region. Florida's citrus community provides pulp from orange and grapefruit juice production for cattle feed. Citrus pulp is high in energy and calcium, and very well-liked by cows. Other common by-product feeds include almond hulls, which are a great source of fiber, cotton seeds, from cotton production, brewer's grains, and distiller grains, which are both high in protein. My dairy cows particularly like beet pulp, from sugar beet production with added molasses, which is high in niacin, from sugar processing.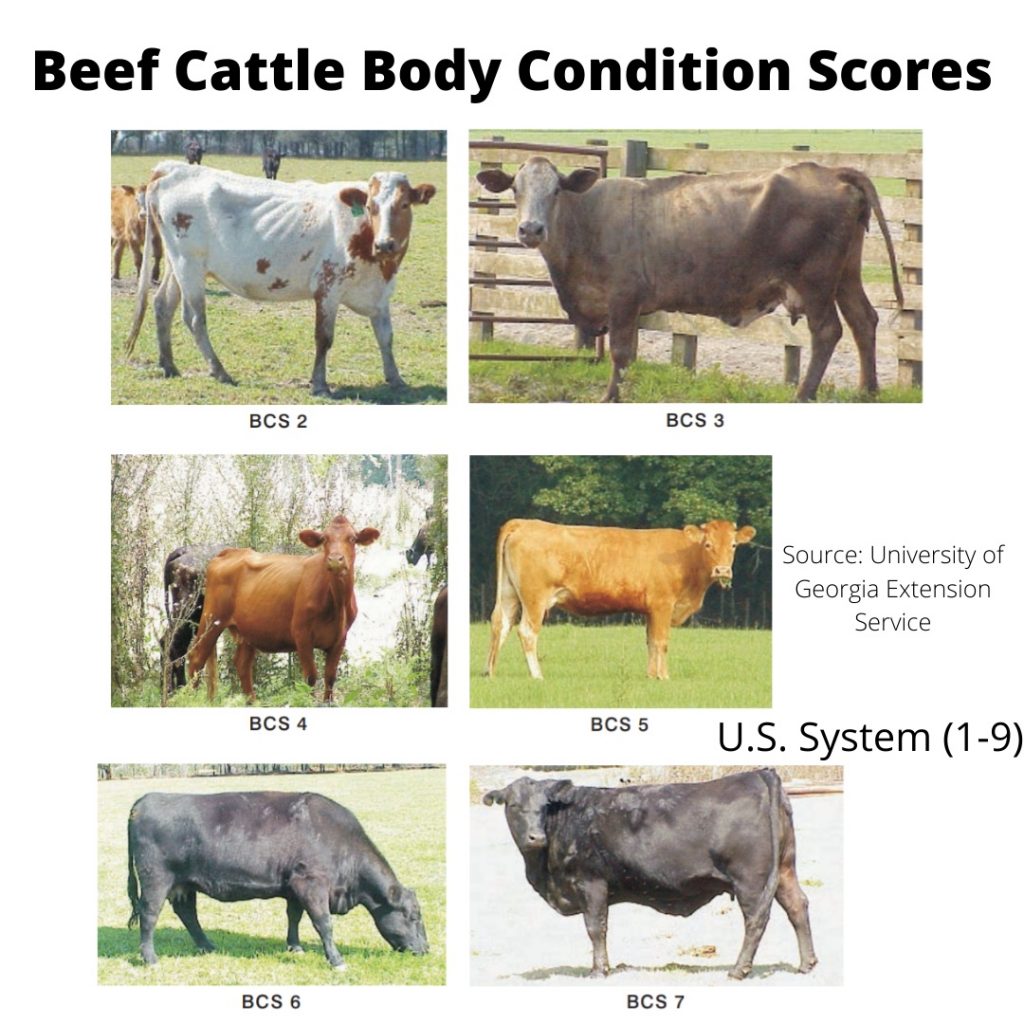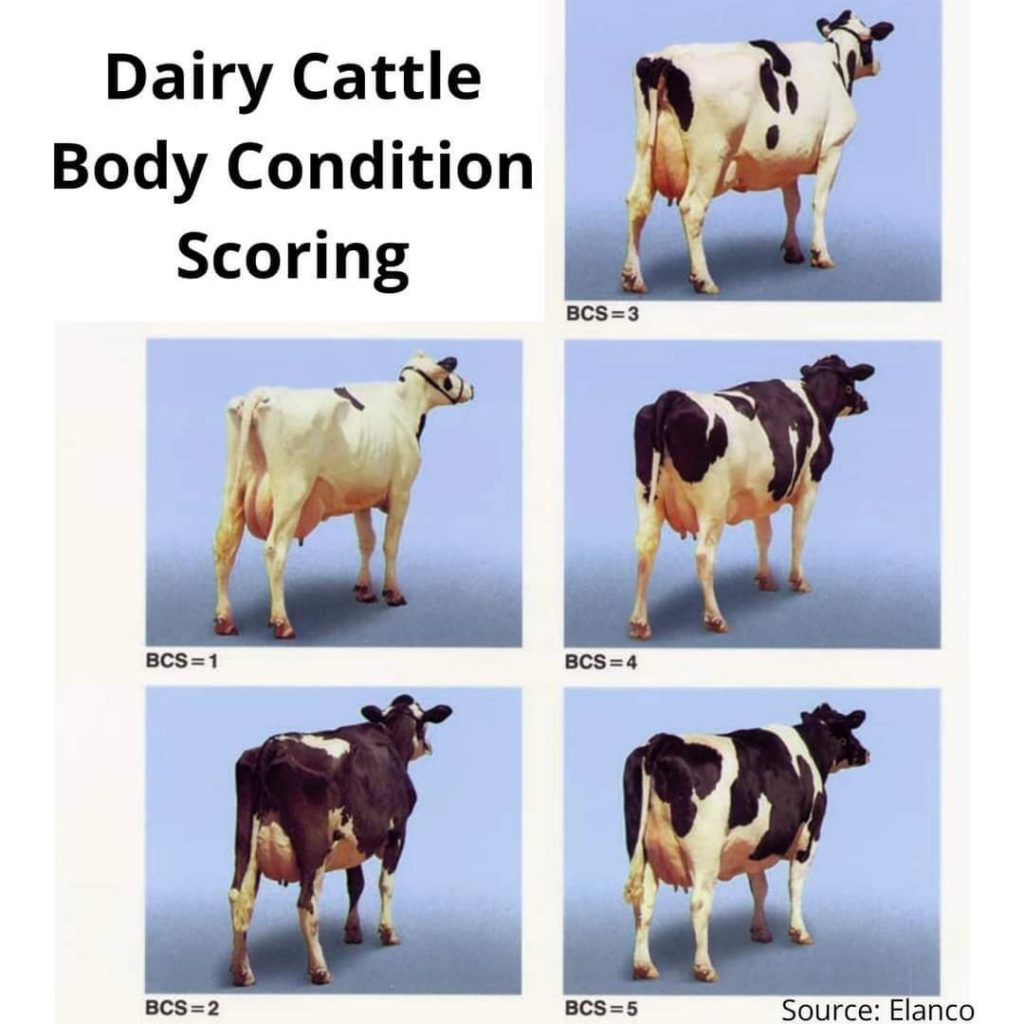 GETTING ENOUGH GROCERIES
How do we make sure our cows are not too skinny? My family owns both dairy and beef cattle, so for both, we use a tool called body condition scoring (BCS) to make sure our cows are at the ideal weight for their body type. Body Condition Scoring is based on science to make sure we are feeding our cows properly for optimal health. Dairy cattle body condition scoring goes from 1 to 5, with 1 being too thin, an ideal score of 3, and 5 being too fat with increments of 0.25. Beef cattle body condition scoring goes from 1 to 9, with 1-3 being too thin, 4 being borderline, 5-7 being ideal, and 8-9 being too fat.
A cow that is too thin or too fat can more easily run into health complications. Obesity or being underweight can be problematic in both dairy and beef cattle, just like in humans. What is considered too thin or too fat differs between dairy and beef cattle. A dairy cow that looks like a beef cow is too fat, while a beef cow that looks like a dairy cow is too thin. Body condition scoring and working with our animal nutritionists helps to ensure that our cows are correctly nourished and in excellent health!
COW HAIR CARE
Another fun difference between dairy and beef cattle is how we prepare their hair for shows. We style their hair differently to emphasize what we are looking for in each. We train our beef cattle's hair to poof. Beef cattle are very fluffy, which adds to their size to make them look even bulkier. In dairy cattle, we give them all the equivalent of a buzz-cut, called body clipping. We leave the hair long along their top and style it into what looks like a mohawk to emphasize angles and allow the judge to better see the cow.
SETTING THE RECORD STRAIGHT
We care about the health and well-being of both our dairy and beef cows. We take our ethical duties as the stewards of our animals very seriously. It's important that we do right by our animals and by our customers because it's the right thing to do.
Next time you're at your county or state fair, take a trip through the barns. If you have any questions or concerns about how your food is produced, ask a farmer. We're the experts in what we do. You could say we're outstanding in our field.
All posts are the opinion of the author and do not necessarily represent the view of the Animal Ag Alliance.