This post was updated December 21, 2020.
Animal rights activists are continuing to capitalize on the COVID-19 pandemic to spread their anti-meat campaigns and further their agenda to eliminate animal agriculture. While it shouldn't be surprising just how low activist groups will go to convince consumers they should leave meat, milk, poultry and eggs off of their plates, we've been alarmed to see how they have stooped to using misinformation about food safety, animal agriculture's supposed connection to the pandemic (spoiler alert: there isn't one) and sustainability. Over the last few weeks, they've zeroed in on rates of infection within the processing plant worker population, claiming that plants remaining open are contributing to the spread of the virus and calling for their immediate closure – which of course aligns conveniently with their ultimate goal of ending animal agriculture and meat production. We're here to set the record straight.
Worker and plant safety measures
Animal rights activist groups initially latched onto plant worker safety early in the pandemic when agricultural workers were deemed "essential" by the federal government and continued going into work every day to keep our nation's food supply flowing. These groups began aligning with worker-focused groups to call for consumers to "Boycott Meat" in the name of worker safety as well as animal rights. The issue regained interest from animal rights activists following media mentions of recent fines issued by the USDA to two processing plants. The fines essentially stated that the companies failed to protect the health and safety of their workers, but a quick look at the timeline of events shows these plants were (and continue to be) in compliance with safety guidance from the Occupational and Safety Health Administration (OSHA).
Worker health and safety is a critical aspect of protecting our national food security and keeping grocery store shelves stocked with our favorite food items. That's why plants have taken various steps to provide the safest possible environment for their employees to operate in. Here's a look into some of the enhanced safety measures implemented in response to COVID-19:
Don't just take our word for it; the proof is in the numbers. Data compiled by the North American Meat Institute shows the successes that plants have seen in limiting, and in many cases almost eliminating, COVID-19 infections.
Trend in plant worker cases vs. U.S. population cases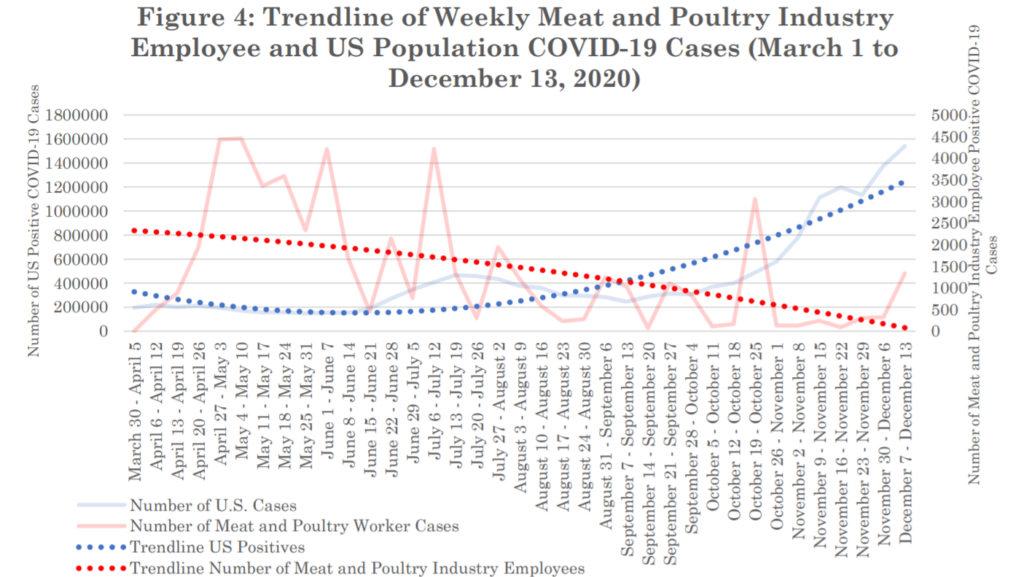 The graph above overlays the trendlines in positive COVID-19 cases between the overall U.S. population and plant workers. There are several takeaways from the data:
The animal agriculture community, like the rest of the country, faced many unprecedented challenges in the early weeks of the pandemic.
The safety measures – physical barriers, screening procedures, etc. – have worked to reduce case numbers, even when the country was setting new records for positive cases.
COVID-19 is a community spread issue (as seen in Memorial Day and July 4th spikes) and safety precautions need to be followed to maintain the downward trend in case numbers.
Plant worker cases vs. U.S population cases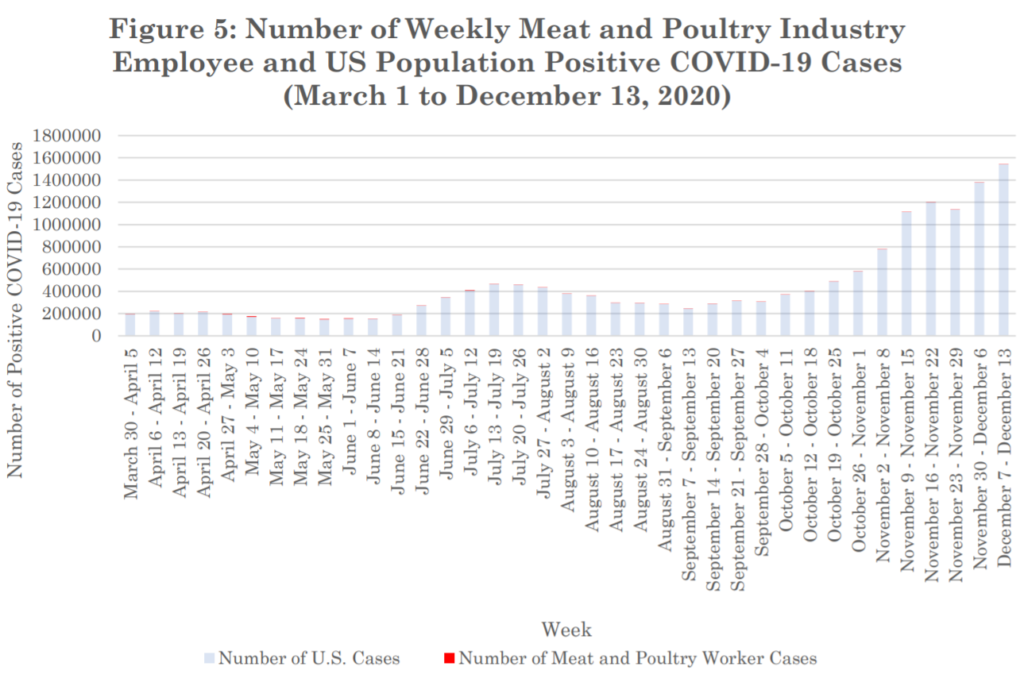 The graph above provides some context to meat and poultry's place in the pandemic over the last few months. It's important to note that while generating considerable media attention, the number of cases associated with meat and poultry plants is miniscule in the larger context.
I'm sure I'm not alone when I say navigating this pandemic has been anything but easy. We've all had to make decisions to do what's best for ourselves, our families, and our communities while following guidance from health officials and government agencies. Our nation's food supply chain is no different. Per usual, animal rights groups are simply trying to capitalize on a difficult situation for everyone by disseminating misinformation to promote their anti-animal agriculture campaigns.