The meat aisle at the grocery store has become increasingly overwhelming. Diverse signs and labels everywhere. Differing opinions from various sources. What does USDA Choice mean? What is Certified Angus Beef? What about Certified Hereford Beef? What is the difference between a ribeye and a sirloin? How should I cook my steak? Grass-fed? Grain-fed? Organic? Are there nutritional differences between cuts? The world of steak-buying can be a complicated process for many, leaving most of us wondering how our steak stacks up.
Beef Quality Grades
The USDA's beef quality grades may seem complicated, however, they are actually fairly easy to understand. Once you understand your steak's quality grade, you will begin to understand how your steak stacks!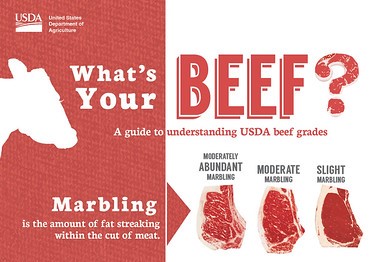 USDA Prime: Prime steaks and cuts will have the most marbling (white fat streaking in meat) in the retail case. These cuts will be from younger, well-fed cattle. They will have what the USDA considers a slightly abundant degree of marbling to an abundant degree of marbling. Generally, Prime steaks and cuts are found at restaurants and high-end retailers. Plus, these will most likely be some of the juiciest and most tender steaks in the retail case.
Pro Tip: Prime steaks and cuts are great for dry-heat cooking like broiling, roasting and grilling!
USDA Choice: Choice steaks and cuts have less marbling than Prime but are still considered high-quality. They will have what the USDA considers a small degree of marbling to a moderate degree of marbling. Most Choice cuts and steaks will be tender, juicy and flavorful depending on the cooking method.
Pro Tip: Choice cuts from the loin and rib are excellent for dry-heat cooking methods. Other cuts tend to be tender and juicy after braising, roasting or simmering in small amounts of liquid!
USDA Select: Select is considered one of the most uniform quality grades. They will have what the USDA considers a slight degree of marbling. Select steaks and cuts are leaner than Prime or Choice. Thus, they will lack some of the juiciness and flavor of the higher grades. Nonetheless, they can still be reasonably tender if cooked properly.
Pro Tip: Only the most tender Select cuts should be cooked with dry heat. To maximize flavor and tenderness, most Select cuts should be marinated prior to cooking or braised.
Other USDA Quality Grades: Standard and Commercial grade cuts are usually sold as "ungraded" or as a store brand. Furthermore, these grades contain a very low degree of marbling and lack the tenderness, juiciness and flavor of the higher grades. USDA Utility, Cutter and Canner typically are missing from retail shelves. These grades make up portions of ground beef and processed products.
What are Certified Beef Programs?
The USDA's certified beef programs are a set of qualifications cattle and carcasses can meet to gain premiums and special labeling. The USDA Agricultural Marketing Service lists 64 certified beef programs. Some of the most notable programs include Certified Angus Beef and Certified Hereford Beef. Don't be alarmed at the grocery store by all the choices available through these programs – just realize it means there are certain criteria, such as hide color, maturity, size and appearance the cattle or carcasses must meet to receive those labels. It's another tool you can use to determine how your steak stacks.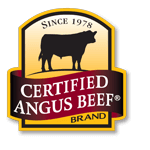 Grain-Fed vs. Grass-Fed Beef
This one is controversial, and I feel like there are a lot of people with strong opinions. Truthfully, I have one as well. First, contrary to popular belief, grass-fed beef is not better for you than grain-fed beef. I will say it again for the people in the back: grass-fed is not healthier! Don't believe me? Here's proof. This has been a major topic of discussion recently in my family and I sometimes have to bite my tongue.
Another major aspect of this debate is sustainability. Just like with most aspects of modern farming, there are trade-offs to every farming practice. Some people will claim grass-fed beef is better for the environment and will talk about methane emissions, etc. The trade-off is that it takes less resources to raise more cattle by feeding them grains. Everyone is entitled to their own buying decisions in the grocery store. It's up to you to decide how your steak stacks and whether you prefer to purchase grain-fed or grass-fed beef.
Is My Steak Organic?
Organic labeling can be confusing. However, don't let this scare you if you're looking for an organic product – just make sure you pick something with the USDA certified organic label. USDA specifications for its organic program are regulated and specific. Organic meat regulations include specifications on living conditions, feed regulations and the animals may not be administered antibiotics or hormones. If organic is how you want your steak to stack, then pay attention to proper labeling.
Beef Can Be Heart Healthy
You read that right. There is a way you can enjoy steak and still maintain a heart-healthy diet. The American Heart Association (AHA) lists nine beef cuts and steaks as part of their Heart Check Program. This program certifies products that align with the AHA's recommendations for an overall healthy eating pattern, so look for the AHA heart check if you want to have beef verified by this program.
Sometimes the meat case at the store can be confusing and scary. Trust me, I have seen all the big signs and labeling differences. Focus on keeping it simple. Apply some of the basic knowledge above and make a choice based on what YOU prefer. At the end of the day, the steak is going onto your family's plates. You get to decide how your steak stacks based on quality, farming practices, labeling differences and nutritional desires.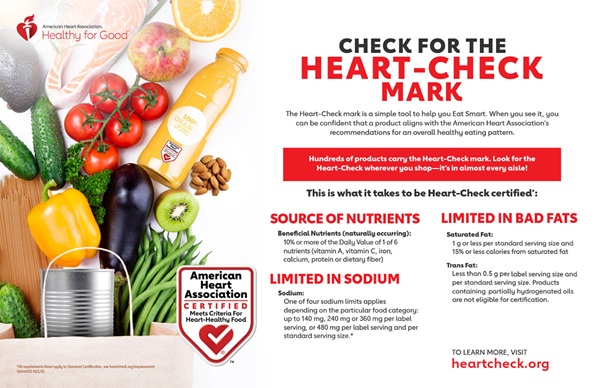 Braeden Coon is a senior at Oklahoma State University and a member of the collegiate Meat Judging Team. All posts are the opinion of the author and do not necessarily represent the view of the  Animal Ag Alliance.