Check out one nearest you!
This time of year, my Instagram and Facebook feed is covered in the iconic photos of family and friends getting together at a local farm. While the flood of the same photos would usually get old, this season never does. It is refreshing to see so many people (who aren't involved in day-to-day agriculture) making farm visits a tradition. This is a great way to make memories as well as get to know where your delicious food comes from.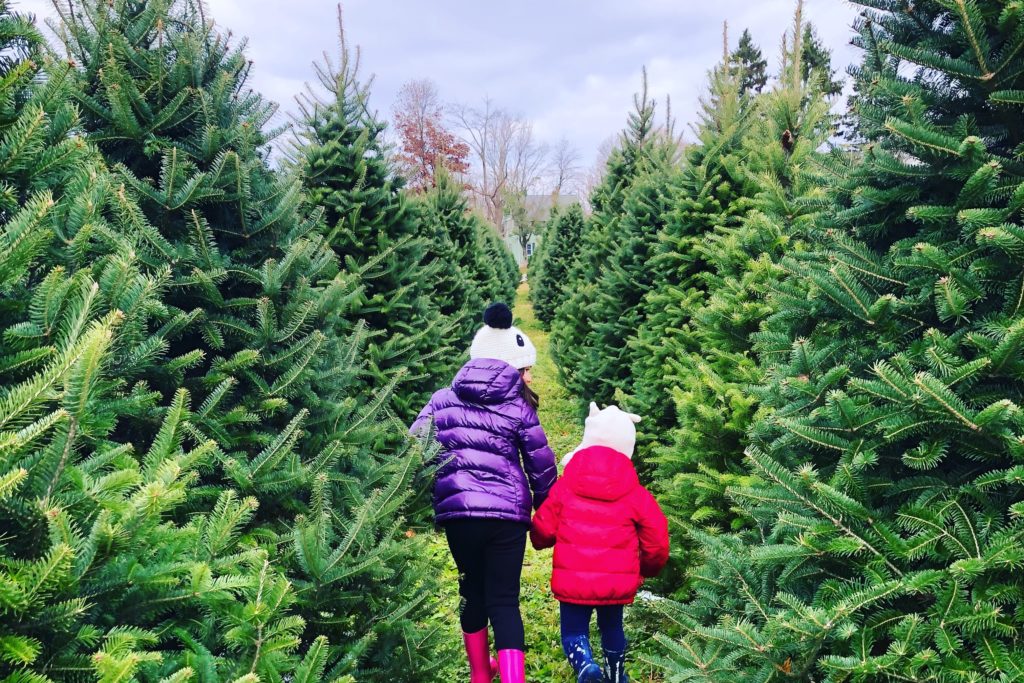 Many farms use this as an opportunity to engage with the public on their farming practices. One of the great things about visiting a local farm during the holiday season is that there are activities for all ages. In early to mid fall, pumpkin picking and corn maizes are a must. Closer to the holidays some farms have Christmas trees available along with holiday activities, like a visit from Santa.
Remember that most farmers grow and raise a variety of products (even if they are not in season when you visit). The next time that you visit a local farm for pumpkin or Christmas tree picking, talk with the farmers and vendors about what else is available throughout the year.
Not sure what to ask your farmer?
That's okay. Farmers love to talk about what they do because they are proud of it! Here are a few starter questions that will get the ball rolling:
How is your food available at the farm grown or raised?
Please explain what cover crops are and do you use them?
What do your different farm animals eat?
How did you get started farming?
What are you planting or harvesting right now, or when is the next time you will?
How do you market your products? Are they sold locally?
What technology do you use in your farming techniques?
Remember, no questions are bad questions. Farmers want you to know where your food comes from! And the best part? You may not realize it, but these farms are all around you!
Virginia residents can check out:
Cox Farms. Check out their Winter Wonderland, open until December 23rd! Bring the whole family to pick out your Christmas tree and wreathes. They have activities for the kids including visiting farm animals. This is a great opportunity to get more connected with agriculture. Nothing beats apple cider and hot chocolate on a winter day – oh, wait… how about roasting marshmallows over the fire while sipping? Before you leave, be sure to get your picture with Santa!
If you hail from Maryland:
Jarrettsville Nurseries is open every day of the week until December 22th. They offer tractor rides to visit the "North Pole" and participate in the tree hunt! Santa visits Saturday's and Sunday's to check his nice or naughty list. Train enthusiasts will love the train garden filled with model trains. After all the hard work of picking out the perfect tree, pick up some hot cocoa and sit by the fire pit to warm up.
Consider checking out Rock Hill Orchard & Woodbourne Creamery. Especially you're a weirdo like me, that enjoys eating ice-cream when its cold out (or anytime really). Make sure to stop at the on-farm market and take home a gallon of their DELICIOUS golden Guernsey milk (ask a farmer why it has a golden tint). They're open Saturday and Sunday from 12pm – 5pm. They offer free dairy tours the first Saturday of every month! This tour includes viewing the robotic milker, a more recent technology dairy farmers are incorporating. It saves both the farmer and cows more time while being increasingly efficient. Check out our article on robotic milking here!
Wherever you visit, don't forget to thank a farmer! They work hard everyday of the year to provide us with delicious and nutritious products.
All posts are the opinion of the author and do not necessarily represent the view of the Animal Ag Alliance.