Before I begin, let me introduce myself. My name is Casey and I graduated from Auburn University with a degree in agricultural communication before moving back home to Centreville, Virginia to intern with the Animal Agriculture Alliance. I am extremely fortunate to have landed an internship so soon after college and doing what I absolutely love – advocating for agriculture (and let's face it, free rent for a few months is nothing to complain about).
Now, before you form any opinions about me, let me explain. I didn't grow up on a farm, nor do I have family that farms. I open my bedroom window and can hear the cars zipping by on Route 29. You might be wondering, how did this girl end up working in the agriculture industry?
I grew up with the dream of becoming a veterinarian like a lot of children do. Then, chemistry happened and I changed my major like the majority of college students. I knew I wanted to stay within the College of Agriculture because it felt like home and I was truly interested in science and learning about agriculture and farming. I was always told I was a good writer, but it never dawned on me to seek a career where I could use my skill until someone introduced me to the agricultural communication program. It was like stepping foot on the Loveliest Village for the first time all over again (aka love at first sight, basically).
Before we get to what this blog is really about, let me tell you that I don't like when people shove their ideas down my throat. It makes me want to tune people out no matter what they're talking about. So, know that what I write is not meant to infuriate people, but rather to get them to think and make informed decisions.
Do you donate to HSUS?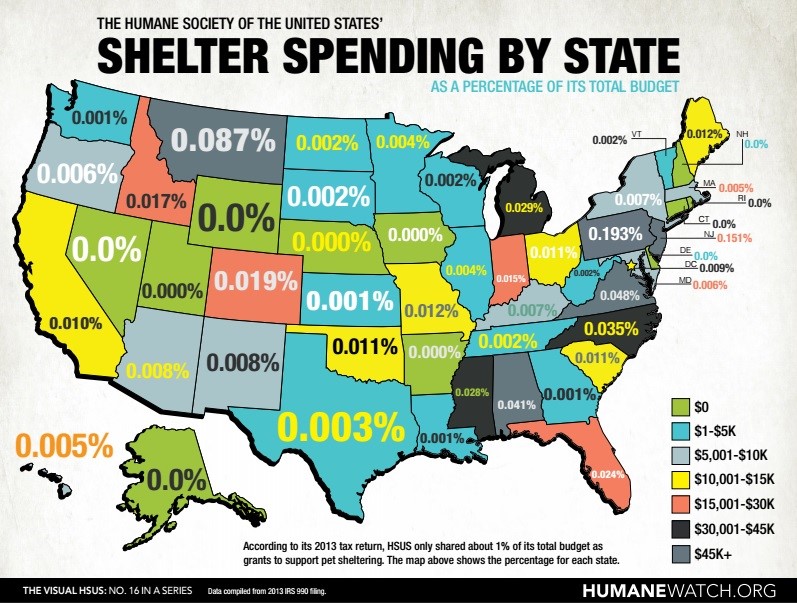 Do you donate to the Humane Society of the United States (HSUS) or know someone who does?  Then the fact that about one percent of their total budget goes to helping humane societies across the country may surprise you.
A map detailing shelter spending by state based on HSUS's 2013 tax return has been swirling around on social media ever since HumaneWatch posted it to their website last week and according to the map, they don't even help all 50 states.
How do they use donations?
If only about one percent of their budget helps humane societies, than where does the rest of their budget go? According to previous tax returns, they have invested about $25 million dollars of donor money into Caribbean hedge funds. This came as a shock to me as I hope it does to you. I mean, why invest money in the Caribbean when the animals are right here in the United States?
When faced with this hard truth, workers from the Humane Society don't deny the fact because it is just that, fact. Their response is that they are not connected or affiliated with local animal shelters and are helping animals all over the country that are not just cats and dogs.
Then why does HSUS let the average donor believe that their hard-earned cash is going to support a helpless shelter animal? It's because they need your money to support their hidden agenda. They claim they are protecting animals across the country, but their idea of protection is far-fetched. If the average citizen knew that they wanted to free all animals used for human entertainment such as zoo animals and for human consumption like farm animals, they know the donations they receive would stop.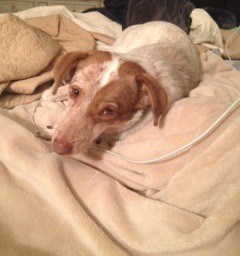 I'm all about treating animals humanely and with respect, but I'm not about to become a vegan like the majority of the workers at HSUS. I would bet the majority of the country wouldn't want to give up meat forever either.
If you want to help shelter animals find homes and get the care they need, don't donate to HSUS and a Caribbean hedge fund. Donate to your local animal shelter that will actually use your donation to help the animals, or better yet, volunteer your time. I have been helping my family foster dogs for the past six years and it is the most rewarding and heart-warming experience when I am able to earn the trust of a scared and betrayed dog and find them a loving "furever" home as my mom calls it. Just last night I was able to get a shy cattle dog named Mona Lisa to watch Netflix with me in bed when before she wouldn't even come up the stairs.
So the next time you see a commercial asking for your money to help a scared and helpless animal, think about the animals in your home town that you could be helping and maybe even watching Netflix with.
All posts are the opinion of the author and do not necessarily represent the view of the Animal Ag Alliance.