It's the start to a new year and many of us are evaluating our health goals, myself included. I dug my Fitbit out of the dresser drawer a few weeks ago to start keeping better track of my eating habits, exercise and water intake. With so many fad diets, it can be challenging to decipher all the health claims floating around. I am definitely not a nutritionist or health expert, but some things just make sense – like including lean meat, eggs and dairy in a healthy, balanced diet.
Health goal 1: Eating healthy
Eating healthy is probably my biggest challenge. I have an uncontrollable sweet tooth – if chocolate is in my house, I will eat it…in one sitting. I try to avoid buying candies and desserts I like so I won't be as tempted, but it never works. For example, last Halloween I refused to buy Milky Ways, Snickers, KitKats and all the candies I love (the trick-or-treaters probably hated me too), and I still ended up eating the entire bowl of Starbursts that was leftover at the end of the night. It's been a problem for as long as I can remember. My mom had to buy my sister Zebra Cakes growing up because if she bought Cosmic Brownies the box wouldn't last more than two days.
To keep myself on track, I make sure to eat nutrient-dense foods instead of high-calorie, nutrient-lacking foods. Sorry, Cosmic Brownies!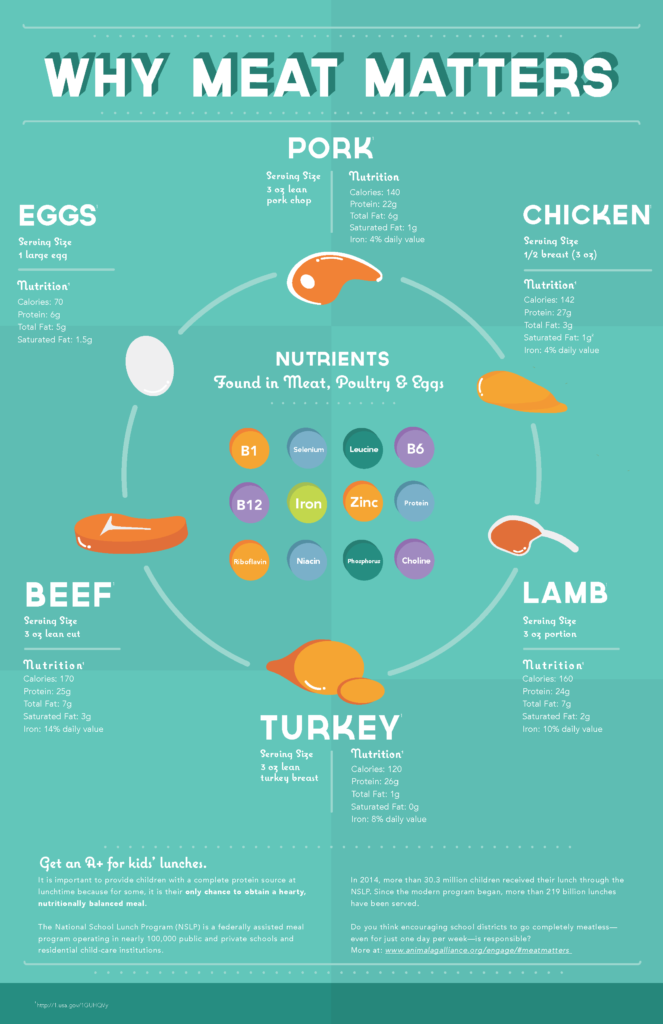 Here's a few reasons why I include meat, dairy and eggs in my diet:
Milk's essential nutrients can be difficult to replace. Three 8-ounce cups provide as much calcium as approximately 17 cups of raw kale!
One large egg has varying amounts of 13 essential vitamins and minerals along with six grams of protein and just 70 calories.
It would take 600+ calories of quinoa to get the same amount of protein in a 170-calorie serving of lean beef!
One 3-ounce serving of turkey has 10 essential nutrients and about 50 percent of the recommended daily value of protein.
Meat, dairy and eggs are natural sources of vitamin B12, essential for proper red blood cell formation and neurological function.
My meal plan
The nutrients and protein meat, dairy and eggs provide are hard to ignore! For the last few weeks, my go-to breakfast has been low-fat cottage cheese with blueberries and granola with coffee. For lunch, I usually have two hard-boiled eggs, carrots, a BabyBel cheese wheel and a handful of mini Triscuit crackers – I love the smoked Gouda flavor. If I have my life together on Sundays, I'll grill some chicken and veggies to have for lunches all week.
Then I'll have a snack around 3 o'clock – usually an apple. One of my biggest pet peeves is wasting food, so I try to mix things up on the weekends to avoid getting tired of the same meals. I recently tried a new recipe – arugula and goat cheese sandwiches with roasted red peppers and mozzarella on sourdough. So good.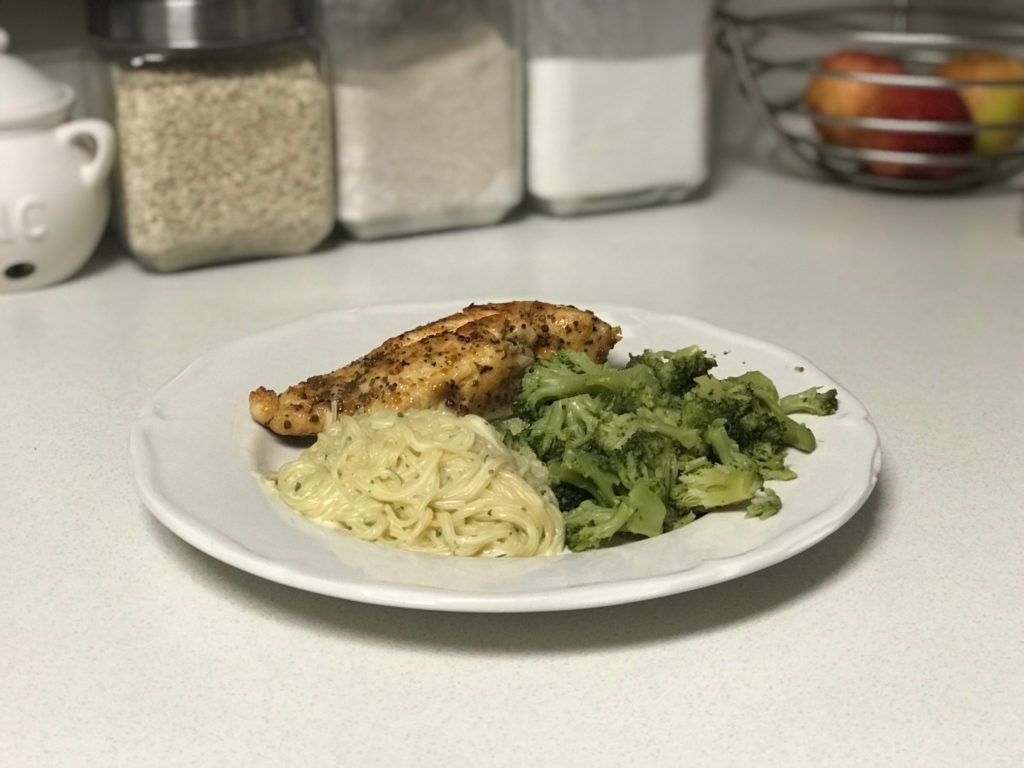 For dinner I'm cooking for two. My husband has been trying to learn to cook, but it's a process. "A" for effort, right? We usually have chicken breasts or pork loin cutlets. With both of us trying to exercise more, the protein and nutrients meat provides help us convert food to energy and preserve and build muscle. Alongside our chicken or pork we always have a vegetable. In addition to in-season vegetables, I always keep bags of frozen veggies on hand. I've heard claims that I can eat broccoli to get my protein, but to get the same amount of protein in a 3-ounce serving of chicken I would have to eat 10 cups of broccoli. No matter how much I love broccoli, 10 cups is a lot!
Speaking of a lot, Crock-Pot meals are also a staple in my house. White chicken chili, creamy Tuscan chicken and butter chicken are all husband-approved. Who am I kidding, he'll eat anything!
Health goal 2: Drinking enough water
You don't have to remind me to eat, but I could use some reminders about drinking water. I'm horrible at drinking enough water each day – coffee is another story. My goal is to drink 64 ounces of water every day. I have a a ton of 24-ounce Tervis Tumblers, so I try to drink three by the time I go to bed. This doesn't sound too difficult, but for some reason I find myself chugging water each night because I didn't drink enough throughout the day. I've thought about setting an alarm on my phone to go off every hour to cue me to drink a glass. Any other suggestions?
Health goal 3: Staying active
So far, I've been pretty good about exercising three to four times a week. Reaching 10,000 steps can be difficult with an office job, but when I feel those celebratory buzzes on my wrist (if you have never used a Fitbit, you might not understand) it makes me feel accomplished. My secret to motivating myself to workout is to only allow myself to watch Netflix if I'm on the stationary bike, lifting weights or doing floor exercises. This way if I get hooked on a show I 1) have a distraction that doesn't make working out so bad, 2) if I'm really hooked, then I exercise every day and 3) I can't binge watch shows because cycling for eight consecutive hours is insane.
Well, that's a little about how I stay healthy. Everyone has different routines, preferences and bodies. What works for one person may not work for another. With so many claims on what's healthy and what's not, I think it's important for everyone to do research and use common sense.
All posts are the opinion of the author and do not necessarily represent the view of the Animal Ag Alliance.