Some children grow up in the suburbs, others in the big city, some live in large mansions, others in small apartment buildings, but I believe I had the best place of all to grow up. Where would that be you might ask? My family's dairy farm. Our farm is proudly located in the Land of 10,000 Lakes (Minnesota) and has been there for four generations. Each and every day on the dairy is something very special to me. There are triumphs and challenges, but I could not be more thankful to have been raised with agriculture in my roots. Here are three of the most important life lessons I learned growing up as the farmer's daughter.
The cows come first. Always.
Regardless of the day or time, cow care is the top priority for my family. In my home, we do not eat supper or lunch until the cows have received their's. We don't clean our home, until the cow barn is taken care of. We don't go to the doctor until the veterinarian came to check on our cows. Everyone in my family knows and fully understands that the cows come first. Farmers just like my dad, work tirelessly everyday of the year to make sure that their animals are well cared for. Imagine getting a call from your boss at 2:30 a.m. telling you to get to work right away. Most of us would question their sanity and then roll back over in bed. That is not the case for farmers. If my dad knows a cow will be calving in the middle of the night, I can guarantee you he will be up monitoring the birthing process ensuring the cow and newborn calf are well and healthy. There is no such thing as a 'day off' in my family.
There is always something to learn.
There are just some things that cannot be taught in the classroom. Thankfully, I have learned many life lessons on the farm. Work ethic, growing from mistakes and failure, and the importance of advocating for what you love are all proficiencies I have learned from the dairy. When you have to be up at sunrise and do not get to bed until way after sunset, you begin to be appreciative for the fact that you have a job that makes time go by in the blink of an eye. When you spend a countless number of hours preparing the land and planting your crops in the spring only to watch a hail storm destroy everything, you begin to be thankful for the fact that no people or animals were hurt. When you read and hear about organizations trying to destroy your livelihood by spreading misinformation, you begin to find the courage within yourself to stand up for what you believe in. I am a better person because of the trials and tribulations, victories and accomplishments I have had on the farm.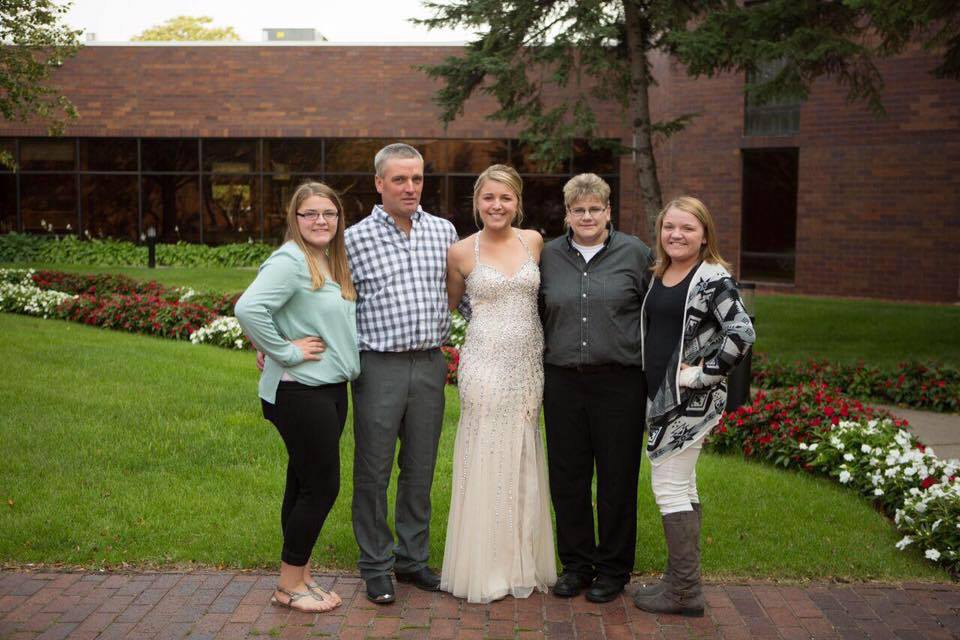 Family is forever.
It is definitely not a 'normal' thing to have to work with your parents, grandparents, and siblings every day, but truthfully, I would not have it any other way. Each day, my family and I wake up knowing that we are taking care of cows that are producing wholesome, nutritious milk and are feeding the world. Being able to lean on your family in times of success and defeat is something I will never take for granted. We support one another in all aspects of our lives, especially when it comes to the farm.
Farming is a family affair. We farmers love what we do and are thankful for the opportunity to work alongside some of our closest friends and family. Just because a farm is large, does not make it a "factory farm" instead of a family farm. Ninety-seven percent of farms in America ar
e family-owned. Just as a person from town or a large city may want to go back to the family business, children of farmers want to do the same. With more family members wanting to continue their agricultural legacy and tradition, it is important that the farm expands in order to support multiple generations. Regardless of the size of the farm, animal care is going to be our top priority.
Do you see why life on the dairy farm has meant so much to me? I would not be the person I am today without the life lessons learned and the family who helped to raise me on the farm. I can assure you that I am not the only one who has ever felt this way. People all across the country are thankful to have been raised in agriculture and are passionate about producing our world's food and fiber. Being an actual farmer may not be in my career aspirations, but I know that agriculture will be in my future. After all, I will always be the farmer's daughter.
All posts are the opinion of the author and do not necessarily represent the view of the Animal Ag Alliance.