If you read my last blog post, you may know that I am a dairy cow person. Something about those black and white spots drew me in and I stuck around for the ice cream. During my collegiate studies, I have had the opportunity to meet and speak with some of the hardworking individuals who look over these cows and provide high-quality dairy products for American families. Here are five things to know about dairy farming:
1. Animal care is the first concern for dairy farmers.
Animal well-being and care is the top priority in any production animal facility. Dairy farmers work hard to ensure that every animal receives the best treatment. Calves grow up to become the cows that produce milk, so farmers make it a priority to get them off to a healthy start. Most dairy calves are moved into calf hutches – clean, dry individual pens that have ample space for the calf to freely move about – after birth and live there for the first three months. Each calf receives individual milk feedings while also having access to water and feed around the clock. Housing calves individually prevents disease between calves, allows the farmer to closely monitor each calf, and gives the calf a clean environment to live in.
Cow comfort is important to dairy farmers because comfortable cows are happy cows. Dairy farmers provide clean, dry bedding for their cows and access to food and water 24 hours a day. Farmers closely watch the herd to monitor each cow. Dairy producers are committed to providing quality animal care.
2. Dairy farmers work with veterinarians and other experts to provide the highest quality products and animal care.
The dairy industry works with veterinarians and other experts to establish guidelines for the proper care of dairy cows. The National Dairy FARM Program is a nationwide, verifiable animal well-being program that brings consistency and uniformity to on-farm animal care and production practices. The FARM program provides resources for farmers including materials on animal care, environmental stewardship and herd health. More than 90 percent of all the milk in the United States comes from farmers who have joined the FARM program. FARM promotes a culture of continuous improvement that inspires dairy farmers to do things even better every day.
3. Dairy farmers are committed to environmental stewardship
Dairy farmers live on or near the land that they farm. They understand the importance of protecting natural resources and that caring for the land, water and air is a responsibility they share with he local community. Dairy farmers work with experts to find ways to reduce their environmental footprint, conserve water and develop renewable energy sources. Dairy farmers can recycle manure as high quality fertilizer on the fields. Federal, state and local clean water laws regulate how manure is applied on cropland, so nutrients are absorbed by crops, not groundwater. Farmers can clean, recycle, and reuse dairy cow bedding. The dairy industry has significantly reduced the greenhouse gas emissions that goes along with making a gallon of milk and has voluntarily committed to reducing its greenhouse gas emission by another 25 percent by 2020. Dairy farmers know that the key to sustainability in agriculture is only reached by being responsible stewards of the environment.
4. All milk goes through strict quality controls to ensure safety.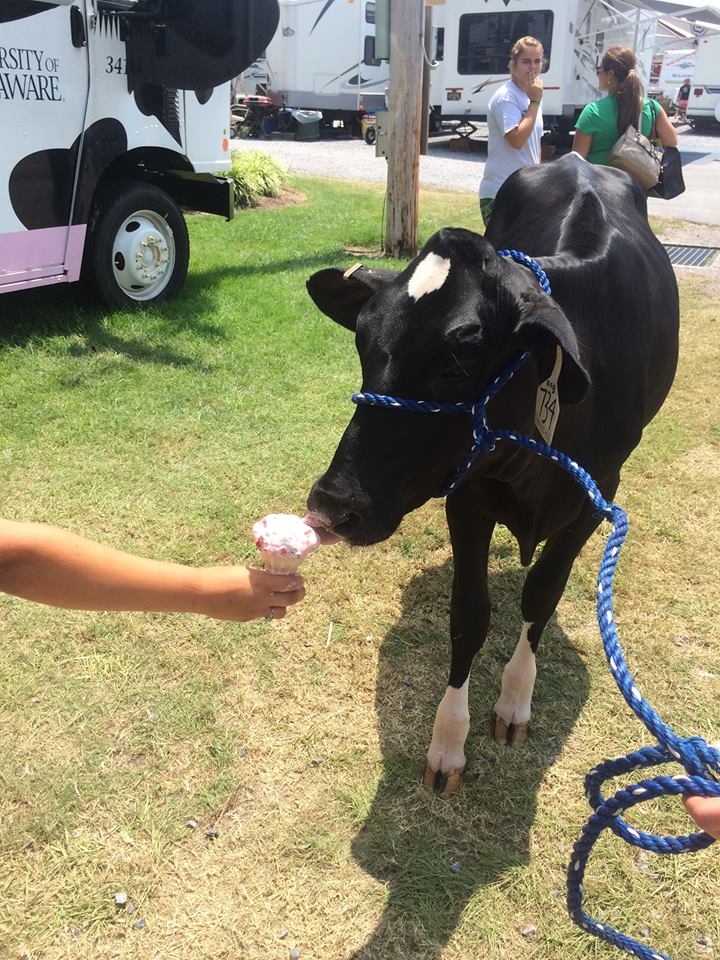 Dairy farmers are committed to providing a safe, wholesome dairy products like cheese, milk and yogurt. Strict governmental standards ensure that both conventional and organic milk are wholesome, safe and nutritious, so you can feel confident in consuming all varieties of milk, cheese and yogurt. Milking equipment delivers milk directly from the cows in a refrigerated holding tank to preserve freshness and safety. The milk is then quickly transported to processing plants for continued freshness and safety. Did you know that every tank of milk in the United States is tested for antibiotics? In the unlikely event that milk tests positive for antibiotics, it is disposed of immediately and does not enter the food supply. All of these measures demonstrate dairy farmers' commitment to providing safe and healthy products.
5. Milk is a nutritious part to any diet!
Dairy is an important source of vital nutrients including calcium, vitamin A, phosphorus and protein. Dairy isn't just milk, of course. Other dairy foods, such as yogurt and cheese, are packed with nutrients and vitamins that are part of a healthy lifestyle. For good health and essential nutrients, it is important to get your three servings of dairy everyday!
So go ahead and enjoy that glass of milk, cup of yogurt, slice of cheese or my favorite, scoop of ice cream. If you want to know more about the dairy community, visit www.dairygood.org!
All posts are the opinion of the author and do not necessarily represent the view of the Animal Ag Alliance.