Virtual Summit speakers to discuss "Building a Culture of Care"
Advice will be offered on ensuring that animal care is a core value in your company culture
April 16, 2020 – A panel of experts will offer insights on "Building a Culture of Care" in a preconference webinar leading up to the Animal Agriculture Alliance's 2020 Virtual Stakeholders Summit, themed "Primed & Prepared." The Summit is set for May 7-8, 2020 and the preconference webinar series (available only to registered Virtual Summit attendees) kicks off April 30.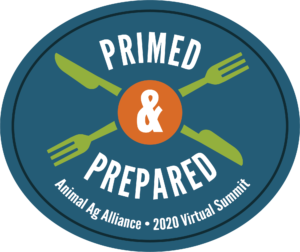 The Alliance's annual Summit brings together thought leaders in the agriculture and food industries to discuss hot-button issues and out-of-the-box ideas to connect everyone along the food chain, engage influencers and protect the future of animal agriculture. Attendees will leave the 2020 Virtual Summit primed and prepared with the tools they need to take action and be part of any and all conversations that could impact the future of animal agriculture and their business.
It's important for farms, plants and other businesses to ensure that animal care is a core value and component to their company's culture. This is key when it comes to hiring, training and managing employees, as we count on them to care for our livestock and immediately stop and report any instances of inappropriate handling. In this preconference webinar sponsored by Elanco Animal Health, expert panelists with diverse backgrounds will discuss how farms and companies can build a culture of care throughout their business. Panelists include:
Michelle Calvo-Lorenzo, PhD, chief animal welfare officer, Elanco Animal Health (panel moderator). In her role, Dr. Calvo-Lorenzo leads discussions and develops strategies related to animal welfare, with a focus on the areas of research, communication, guidance, and innovative services to the livestock industry, practicing veterinarians, the public, and Elanco's customers and employees.
Robert Hagevoort, PhD, extension dairy specialist and associate professor, New Mexico State University. Dr. Hagevoort works individually with dairies and collectively with producer associations on implementing and evaluating comprehensive workforce training programs in dairy safety, animal handling, parlor performance, calf care, feeder performance, and hospital and maternity care.
Max Irsik, manager, animal agriculture, KCoe Isom. Having operated his family's farm and cattle operations, Irsik brings first-hand knowledge of the daily issues which farm and ranch operations face. In his role, he uses his specialization in livestock as well as row crop operations to help clients successfully optimize, expand, and transition their agribusinesses.
Josh Linde, pig farmer and general manager, Heartland Region, The Maschhoffs. Linde has a passion for raising pigs that goes back to when he was growing up on the family farm. Linde joined The Maschhoffs in 2009 and in 2017 was promoted to general manager of the Heartland Region, which finishes approximately 1.6 million market hogs annually.
"Instilling a culture of care at every level of your business is absolutely critical," said Kay Johnson Smith, Alliance president and CEO. "Ensuring high standards of animal care is nonnegotiable, and employees that are entrusted to handle livestock and poultry need to share that belief. The insights shared by this panel will be extremely valuable to all leaders in animal agriculture, from farm owners to meat, poultry and dairy company executives."
Virtual Summit registration is available at Summit.AnimalAgAlliance.Org. Registration will give attendees exclusive access to 13 hours of live, dynamic content spread out among a series of preconference webinars and the two-day virtual event. Recordings from each session will also be available only to confirmed virtual attendees through the end of 2020. Attendees will also enjoy digital networking opportunities that are more valuable than ever in today's challenging environment.
Be sure to check the Virtual Summit website for the most up-to-date Virtual Summit information and the full agenda. You can also follow the hashtags #AAA20 and #PrimedAndPrepared for periodic updates about the event. For general questions about the Summit please contact summit@animalagalliance.org or call (703) 562-5160.
Thank you to our 2020 Summit sponsors: Watt Global Media, Farm Journal, Meatingplace, National Pork Producers Council, National Cattlemen's Beef Association, Smithfield, National Pork Board, American Feed Industry Association, United Soybean Board, The National Provisioner, Elanco, Country Folks, Dairy MAX, Farm Credit, National Biodiesel Board, United Egg Producers, Cobb Vantress, Inc., Protect the Harvest, Progressive Dairyman, Agri Beef, American Farm Bureau Federation, American Veal Association, Empirical, Kemin, National Chicken Council, Trans Ova Genetics, Vivayic, Mountaire Farms, North Carolina Farm Bureau, Brakke Consulting, Food Industry Environmental Network and Eggland's Best.
The Alliance also thanks the following members for their continued support of Summit and other Alliance programs: U.S. Poultry & Egg Association, Zoetis, Alltech, Inc., Cattle Empire, LLC, Charleston|Orwig, Diamond V, Genus PLC – PIC/ABS, Hy-Line North America LLC, Iowa Soybean Association, Merck Animal Health, National Turkey Federation, Nutrien, Aviagen Group, Boehringer Ingelheim, Cargill, Dairy Farmers of America, Hendrix Genetics, Provimi North America, Inc. and Seaboard Foods.
About the Alliance:
The Animal Agriculture Alliance is an industry-united, nonprofit organization that helps bridge the communication gap between farm and fork. We connect key food industry stakeholders to arm them with responses to emerging issues. We engage food chain influencers and promote consumer choice by helping them better understand modern animal agriculture. We protect by exposing those who threaten our nation's food security with damaging misinformation. Find the Alliance on Facebook, Twitter, and Instagram.
Category: Press Releases
Tag: Stakeholders Summit,