U.S. Farm Report's Tyne Morgan to moderate 2017 Stakeholders Summit
Early registration now open through April 3rd
December 19, 2016 – Tyne Morgan, host of the longest-running syndicated program focused on agriculture and rural life, will serve as the moderator for the 2017 Stakeholders Summit, the Animal Agriculture Alliance announced today. Early registration is also now open for the Summit, which will be held May 3-4 in Kansas City, Mo.
Since 2014, Morgan has served as host of "U.S. Farm Report," which has been on air for more than three decades. The program airs weekly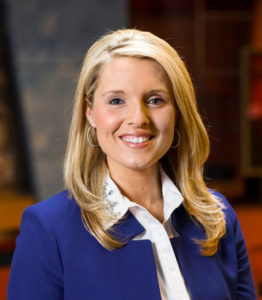 on stations coast-to-coast. Morgan grew up in Missouri and has deep agricultural roots, getting started in public speaking through her involvement in The National FFA Organization. After getting her first agricultural broadcasting job in high school, Morgan went on to study agricultural journalism at the University of Missouri-Columbia.
This will be Morgan's first time moderating the Summit.
"I'm eager to host such an influential event within the animal agriculture industry," said Morgan. "The livestock sector is currently in a unique position. With so much attention around both practices and production on and off the farm or ranch, I think this sector is in the prime position to shape the future by connecting to all areas of the food chain, from suppliers to consumers."
The theme for the 2017 Summit is "Connect to Protect: #ActionPlease2017." Whatever your role in animal agriculture – farmer to association executive, government official to agriculture or food company leader – the Summit is your chance to join a united force committed to protecting animal agriculture and finding solutions to the challenges you face.
"Building off the success of last year's Summit – the most highly-attended to date – we will continue to focus on giving attendees actionable takeaways they can immediately implement," said Kay Johnson Smith, Alliance president and CEO. "The 2017 event will be all about the value of connecting – both within animal agriculture and along the food chain."
The Summit returns to Kansas City for 2017 and will take place at the InterContinental Kansas City at the Plaza. Rooms are available at a discounted rate through April 3rd (as supplies last).
Be sure to check the Alliance website for the most up-to-date Summit information. You can also follow the hashtag #AAA16 and #ActionPlease2017 for periodic updates about the event. For general questions about the Summit please contact summit@animalagalliance.org or call (703) 562-5160.

Get involved:
Show your support for the Alliance's outreach efforts by becoming an official Summit sponsor today! For a complete listing of the 2016 Summit sponsors and to explore opportunities for 2017 please visit http://animalagalliance.org/summit/index.cfm?PageID=3. For more information on sponsorship opportunities, contact Allyson Jones-Brimmer at ajonesbrimmer@animalagalliance.org.
 About the Alliance:
The Animal Agriculture Alliance is an industry-united, nonprofit organization that helps bridge the communication gap between farm and fork. We connect key food industry stakeholders to arm them with responses to emerging issues. We engage food chain influencers and promote consumer choice by helping them better understand modern animal agriculture. We protect by exposing those who threaten our nation's food security with damaging misinformation.
Find the Alliance on Facebook and Twitter.
Category: Press Releases
Tag: Stakeholders Summit,