Trends in activism and farm security on the agenda for Virtual Summit
Experts to provide security advice for farms, plants, restaurants, retailers and other ag businesses
March 31, 2020 – Current trends in animal rights activism and farm security will be addressed at the Animal Agriculture Alliance's 2020 Virtual Stakeholders Summit, themed "Primed & Prepared." The Summit is set for May 7-8, 2020, and registered attendees will also receive exclusive access to a series of pre-conference webinars.
The Alliance's annual Summit brings together thought leaders in the agriculture and food industries to discuss hot-button issues and out-of-the-box ideas to connect everyone along the food chain, engage influencers and protect the future of animal agriculture. Attendees will leave the 2020 Virtual Summit primed and prepared with the tools they need to take action and be part of any and all conversations that could impact the future of animal agriculture and their business.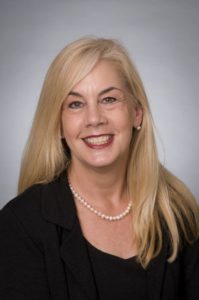 Understanding and preparing for activist activity are important components of securing the future of animal agriculture. Virtual Summit attendees will hear the latest trends in how activist organizations are targeting farms, plants, events, and restaurant/retail/foodservice brands from Kay Johnson Smith, Alliance president and CEO, in a keynote address. Kay Johnson Smith joined the Alliance as the executive director in 1994 and was named president and CEO in 2011. Smith is a leading advisor to the agriculture and food industry on farm animal welfare issues, serves as a national spokesperson and has provided hundreds of presentations and media interviews on animal rights activism, farm security and animal welfare throughout her career.
Following Smith's presentation, attendees will hear from four seasoned farm security experts on how to protect their businesses. Each panelist will offer advice from their unique perspectives as legal, law enforcement and security experts. How to respond to current and emerging activist tactics including protests, trespassing on farms, and "undercover" activists will be covered in the conversation. Panelists include:
Jim Naugle, assistant sheriff with the Sonoma County (Ca.) Sheriff's Office. Naugle has worked in law enforcement for more than two decades. In his current position, Naugle oversees the Law Enforcement Division of the Sheriff's Office. Naugle has played an integral role in managing several large-scale protests on Sonoma County farms held by animal rights activist organizations in recent years.
Jim Rovers, senior vice president of operations for AFIMAC. Rovers is a security expert who has worked throughout the U.S. and Canada for more than 25 years. His specialties include intelligence and protection surrounding animal rights activists, protests and demonstrations, threat risk assessments, investigations, protection, secure transportation and cargo theft.
John Sancenito, president of Information Network Associates (INA), an international investigative and corporate consulting firm. Sancenito's professional experience includes more than 12 years as a sworn law enforcement officer and 18 years as a private investigator and security consultant. He is an internationally-recognized speaker on topics including domestic terrorism, animal rights extremism, insider threat prevention and workplace violence.
Brianna Schroeder, attorney with Janzen Agricultural Law. Schroeder focuses her legal practice working for farmers and agribusinesses. Schroeder has litigated complex environmental and agricultural matters, including insurance coverage, regulatory compliance, tort claims, zoning appeals and employment claims. She is licensed in Indiana and Illinois and has represented a wide variety of clients from start-up companies and livestock farmers to large agricultural businesses, trade groups and municipalities.
"It's an unfortunate reality that all businesses and organizations involved in food production need to prepare for activist threats," said Hannah Thompson-Weeman, Alliance vice president of communications. "The Alliance's 30-plus year history in monitoring these issues makes us uniquely well-positioned to bring together the right lineup of experts to give our Virtual Summit attendees the knowledge and tools they need to implement necessary security measures."
Virtual Summit registration is now open at Summit.AnimalAgAlliance.Org. Registration will give attendees exclusive access to 13 hours of live, dynamic content spread out among a series of preconference webinars and the two-day virtual event. Recordings from each session will also be available only to confirmed virtual attendees through the end of 2020. The Alliance team is working to ensure attendees enjoy digital networking opportunities that are more valuable than ever in today's challenging environment.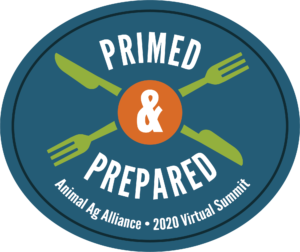 Farmers and ranchers interested in attending the Virtual Summit are encouraged to enter the Alliance's photo contest. To enter, competitors need to post their favorite farm photo on Twitter, Instagram or Facebook with the hashtags #PrimedAndPrepared and #AAA20 and tag the Alliance (Facebook: @animalagalliance, Instagram: @animalagalliance, Twitter: @animalag). Participants should be sure to include a caption about why they want to be primed and prepared to protect animal ag. Entries must be posted by April 10. Top entries will win a free registration to the Virtual Summit.
Be sure to check the Virtual Summit website for the most up-to-date Virtual Summit information and the full agenda. You can also follow the hashtags #AAA20 and #PrimedAndPrepared for periodic updates about the event. For general questions about the Summit please contact summit@animalagalliance.org or call (703) 562-5160.
Thank you to our 2020 Summit sponsors: Watt Global Media, Farm Journal, Meatingplace, National Pork Producers Council, National Cattlemen's Beef Association, Smithfield, National Pork Board, American Feed Industry Association, United Soybean Board, The National Provisioner, Elanco, Country Folks, Dairy MAX, Farm Credit, National Biodiesel Board, United Egg Producers, Cobb Vantress, Inc., Protect the Harvest, Progressive Dairyman, Agri Beef, American Farm Bureau Federation, American Veal Association, Empirical, Kemin, National Chicken Council, Trans Ova Genetics, Vivayic, Mountaire Farms, North Carolina Farm Bureau, Brakke Consulting, Food Industry Environmental Network and Eggland's Best.
The Alliance also thanks the following members for their continued support of Summit and other Alliance programs: U.S. Poultry & Egg Association, Zoetis, Alltech, Inc., Cattle Empire, LLC, Charleston|Orwig, Diamond V, Genus PLC – PIC/ABS, Hy-Line North America LLC, Iowa Soybean Association, Merck Animal Health, National Turkey Federation, Nutrien, Aviagen Group, Boehringer Ingelheim, Cargill, Dairy Farmers of America, Hendrix Genetics, Provimi North America, Inc. and Seaboard Foods.
About the Alliance:
The Animal Agriculture Alliance is an industry-united, nonprofit organization that helps bridge the communication gap between farm and fork. We connect key food industry stakeholders to arm them with responses to emerging issues. We engage food chain influencers and promote consumer choice by helping them better understand modern animal agriculture. We protect by exposing those who threaten our nation's food security with damaging misinformation. Find the Alliance on Facebook, Twitter, and Instagram.
Category: Press Releases
Tag: Stakeholders Summit,