Sign-up deadline extended for annual agriculture scholarship competition
College Aggies Online scholarship competition has record enrollment
September 26, 2018 – Today, the Animal Agriculture Alliance announced it is extending the deadline for students to sign up for its College Aggies Online (CAO) scholarship competition due to popular demand. Undergraduate students, graduate students and collegiate clubs can sign up through October 10 at https://collegeaggies.animalagalliance.org.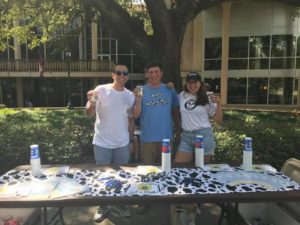 The 2018 edition of CAO is shaping out to be the most competitive years yet with record enrollment. So far, more than 350 students and 23 collegiate clubs have signed up to compete. "We have received so much positive feedback that we've decided to offer students and clubs more time to join this year's program," said Casey Kinler, Alliance communications manager. "We hope to see more collegiate clubs jump on this opportunity to discuss food and agriculture with students who may not be familiar with farming."
In addition to competing for over $25,000 in scholarships, CAO participants will develop the communication skills necessary to become confident agriculture advocates. Club participants host outreach activities to engage with members of their community and fellow students about agriculture. The club events range from reading to youth and hosting a food drive to sharing facts about meat, milk, poultry and eggs on their campus.
To see the students' social media posts and pictures from their campus events, follow #CAO18 on social media.
CAO would not be possible without the generous support of our 2018 program sponsors including: Dairy Management Inc., Seaboard Foundation, National Pork Industry Foundation, Cooper Family Foundation, Diamond V, Bayer, National Corn Growers Association, National Pork Board, Alltech, Vivayic, Ohio Poultry Association, Domino's Pizza Inc., National Chicken Council and Pennsylvania Beef Council.
About the Alliance:
The Animal Agriculture Alliance is an industry-united, nonprofit organization that helps bridge the communication gap between farm and fork. We connect key food industry stakeholders to arm them with responses to emerging issues. We engage food chain influencers and promote consumer choice by helping them better understand modern animal agriculture. We protect by exposing those who threaten our nation's food security with damaging misinformation. Find the Alliance on Facebook, Twitter, and Instagram
Category: Press Releases
Tag: College Aggies Online,