Session recordings now available from 2019 Stakeholders Summit
2019 event sets attendance record; Summit returns to Arlington, Va. for 2020
May 30, 2019 – The Animal Agriculture Alliance announced today that materials from the 2019 Animal Agriculture Alliance Stakeholders Summit, themed "A Seat At The Table," are now accessible online. The Summit was held May 8-9 in Kansas City, Missouri and attracted 335 attendees, making it the largest Summit to date.
Recorded presentations from the Summit's 26 expert speakers are available to view at: https://agtoday.us/2019-aaa-summit. Presentations from the 2016, 2017 and 2018 Summits are also available at the same link. Highlights and quotes from the sessions can be accessed at: https://www.animalagalliance.org/resourcelibrary/results.cfm?ID=1290.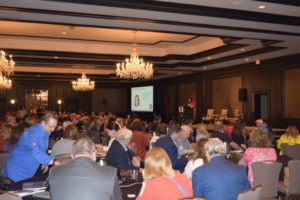 "If you weren't able to take your seat at the table this year, or if you just want to watch your favorite session again, I highly encourage you to watch the presentations from this year's Summit," said Kay Johnson Smith, Alliance president and CEO. "Attendees heard from a wide variety of expert speakers on topics including consumer preferences, product marketing and labeling, influencer engagement, sustainability, animal welfare, alternative proteins, blockchain technology, farm security and many, many more."
The conference agenda and speaker biographies can be viewed at: http://summit.animalagalliance.org. This year's successful event would not have been possible without the support of our sponsors, who are also listed on the Summit website.
The 2020 Summit is set for May 7-8 at the Renaissance Capital View Hotel in Arlington, Virginia. Stay tuned to http://summit.animalagalliance.org and #AAA20 for event updates.
About the Alliance:
The Animal Agriculture Alliance is an industry-united, nonprofit organization that helps bridge the communication gap between farm and fork. We connect key food industry stakeholders to arm them with responses to emerging issues. We engage food chain influencers and promote consumer choice by helping them better understand modern animal agriculture. We protect by exposing those who threaten our nation's food security with damaging misinformation. Find the Alliance on Facebook, Twitter, and Instagram.
Category: Press Releases
Tag: Stakeholders Summit,