Registration now open for 2019 Stakeholders Summit
Animal Agriculture Alliance Summit, "A Seat At The Table," set for May 8-9
December 10, 2018 – Registration is open for the Animal Agriculture Alliance's 2019 Stakeholders Summit, themed A Seat At The Table. The event, now in its 18th year, will be held May 8-9 at the InterContinental At The Plaza Hotel in Kansas City, Missouri. Early registration discounts are available through February 1 (pending availability). To register, visit https://www.animalagalliance.org/summit.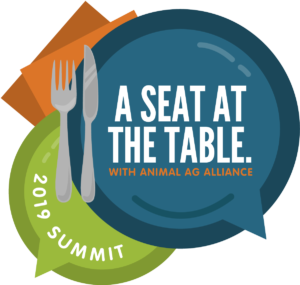 The conversation surrounding animal agriculture has been going on for much too long without engagement between key stakeholders in restaurant, retail and foodservice companies, farms and ranches, government agencies, agribusinesses, and agriculture and food associations. The annual Stakeholders Summit brings top thought leaders in the industry together to discuss hot-button issues and out-of-the-box ideas.
"Consumers are asking more questions about environmental stewardship, nutrition and animal welfare today than ever before," said Kay Johnson Smith, Alliance president and CEO. "At the 2019 Summit, food industry stakeholders will learn how to address these concerns and gain the supportive network and tools they need for success in their business."
Be sure to check the Summit website for the most up-to-date Summit information. You can also follow the hashtags #AAA19 for periodic updates about the event. For general questions about the Summit please contact summit@animalagalliance.org or call (703) 562-5160.
Get involved:
Show your support for the Alliance's outreach efforts by becoming an official Summit sponsor today! For 2019 sponsorship opportunities, please visit www.animalagalliance.org/summit. For more information, contact Allyson Jones-Brimmer at ajonesbrimmer@animalagalliance.org.
Thank you to our 2019 Summit sponsors: Watt Global Media, Farm Journal Media, Meatingplace, National Provisioner, American Feed Industry Association, National Pork Producers Council, National Cattlemen's Beef Association, Smithfield, National Biodiesel Board, Summit Livestock Facilities, United Egg Producers, Cobb-Vantress, Inc., Council for Biotechnology Information, Protect the Harvest, BPI Technology, Inc., National Chicken Council, Live Oak Bank, North Carolina Farm Bureau, Food Industry Environmental Network, Kansas Farm Bureau and Kansas Soybean.
The Alliance also thanks the following members for their continued support of Summit and other Alliance programs: U.S. Poultry & Egg Association, Merck Animal Health, Charleston|Orwig, Diamond V, Zoetis, Alltech, Inc., Aviagen Group, Bayer Animal Health, Dairy Farmers of America, Genus PLC – PIC/ABS, Hendrix Genetics, Hy-Line North America LLC, Iowa Soybean Association, Midwest Dairy, National Pork Board, Nutrien, National Turkey Federation, Provimi North America, Inc. and Seaboard Foods LLC.
About the Alliance:
The Animal Agriculture Alliance is an industry-united, nonprofit organization that helps bridge the communication gap between farm and fork. We connect key food industry stakeholders to arm them with responses to emerging issues. We engage food chain influencers and promote consumer choice by helping them better understand modern animal agriculture. We protect by exposing those who threaten our nation's food security with damaging misinformation.
Find the Alliance on Facebook, Twitter, and Instagram.
Category: Press Releases
Tag: Stakeholders Summit,