Help promote the 2020 Virtual Stakeholders Summit by placing this in your newsletter or publication. Contact Casey Kinler if you'd like it in a different format.
2020 Virtual Stakeholders Summit will leave you Primed & Prepared to build bridges from farm to fork
Program includes discussions around sustainability, animal welfare and other hot topics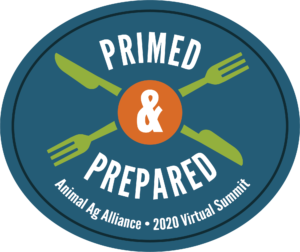 We all have a vested interest in the future of animal agriculture—from farmers and ranchers to restaurant, retail and foodservice executives and every link of the food chain in between. The Animal Agriculture Alliance's 2020 Virtual Stakeholders Summit will provide an opportunity to come together virtually, learn from each other and develop the proper tools for engaging in conversations about hot issues and securing our livelihoods.
Attend the 2020 Virtual Summit and you'll be primed and prepared to build bridges from farm to fork. The virtual-only event is set for May 7 – 8 and registration is open through May 6. To register, visit Summit.AnimalAgAlliance.org.
Some agenda highlights include:
Steve Lerch, president of Story Arc Consulting, will offer the opening keynote address. Lerch will give attendees insights into innovation and strategy gained from his decade at Google and experience serving as a digital strategy consultant to dozens of well-known brands.
A session titled "Building Links Along the Food Chain: Enhancing the Sustainability Conversation." Building on the livestock industry's tremendous strides in the last few decades to produce meat, milk, poultry and eggs more efficiently, this panel will consider if there is an opportunity through food companies to improve consumer understanding of the tools that enable animal agriculture's sustainability. Panelists include: Marianne Smith Edge, RDN, founder and principal of The AgriNutrition Edge; Lee Bob Harper, DVM, associate director, beef strategic technical services, Zoetis; and Molly McAdams, PhD, retail advisor, Texas cattle rancher and former vice president at H-E-B.
A panel of registered dietitians will have a candid conversation about the latest consumer buzzwords in nutrition. Cara Harbstreet, Street Smart Nutrition; Nicole Rodriguez, Enjoy Food, Enjoy Life; and Allison Webster, International Food Information Council will each bring a unique perspective to this panel, titled "Conversations that Cultivate: Staking Your Claim on the Plant-Based Plate."
With sessions covering sustainability, animal welfare, influencer engagement, preparing for animal rights activist campaigns and other hot topics, attendees will leave the 2020 Virtual Summit primed and prepared with the tools needed to take action and be part of any and all conversations that could impact the future of animal agriculture. Virtual Summit registration will give attendees exclusive access to 13 hours of live, dynamic content spread out among a series of preconference webinars and the two-day virtual event. Recordings from each session will also be available to confirmed virtual attendees only through the end of 2020.
Check out the Summit website for the most up-to-date Summit information, the full agenda and registration. You can also follow the hashtags #AAA20 and #PrimedAndPrepared for periodic updates about the virtual event. For questions about the Summit please contact Summit@AnimalAgAlliance.org or call (703) 562-5160.
Category: Alliance Outreach and Projects
Tag: Stakeholders Summit,