Thank you for getting social about animal agriculture! Share any of the following graphics to your social media pages!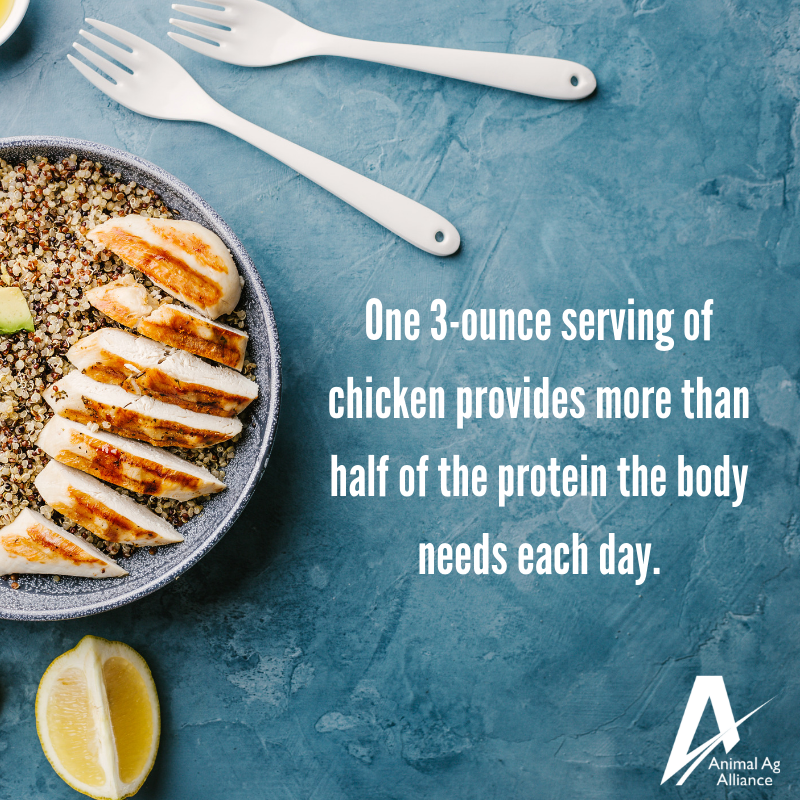 Chicken is lower in fat and calories than most meats and provides important nutrients, including generous amounts of high-quality protein. https://bit.ly/2W3pPke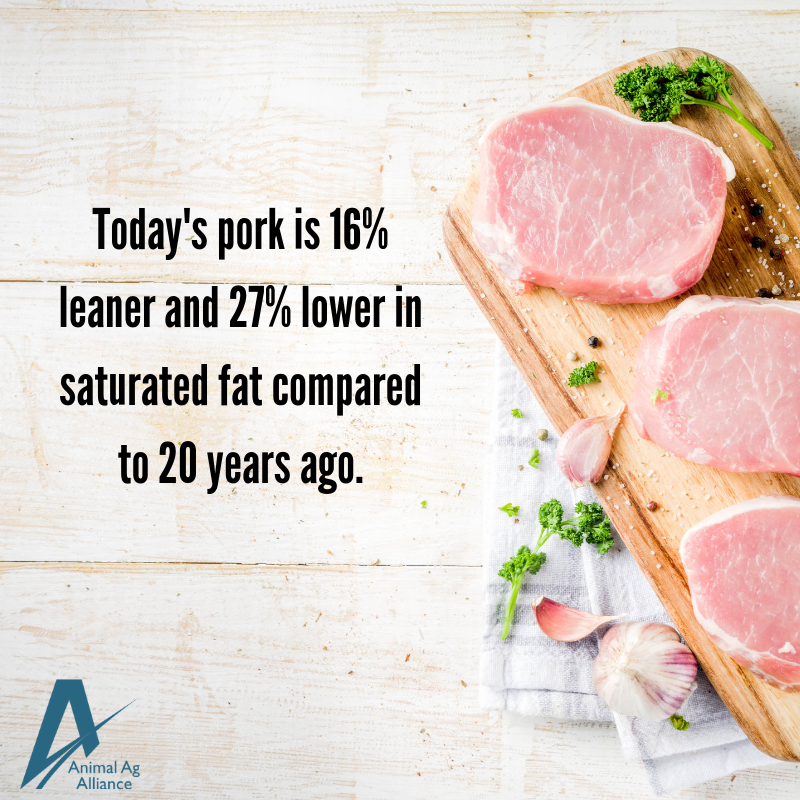 Seven cuts of pork meet the USDA guidelines for "lean" by containing less than 10 grams of fat, 4.5 grams of saturated fat and 95 milligrams of cholesterol per 100 grams of meat! https://adobe.ly/2Jxy5r4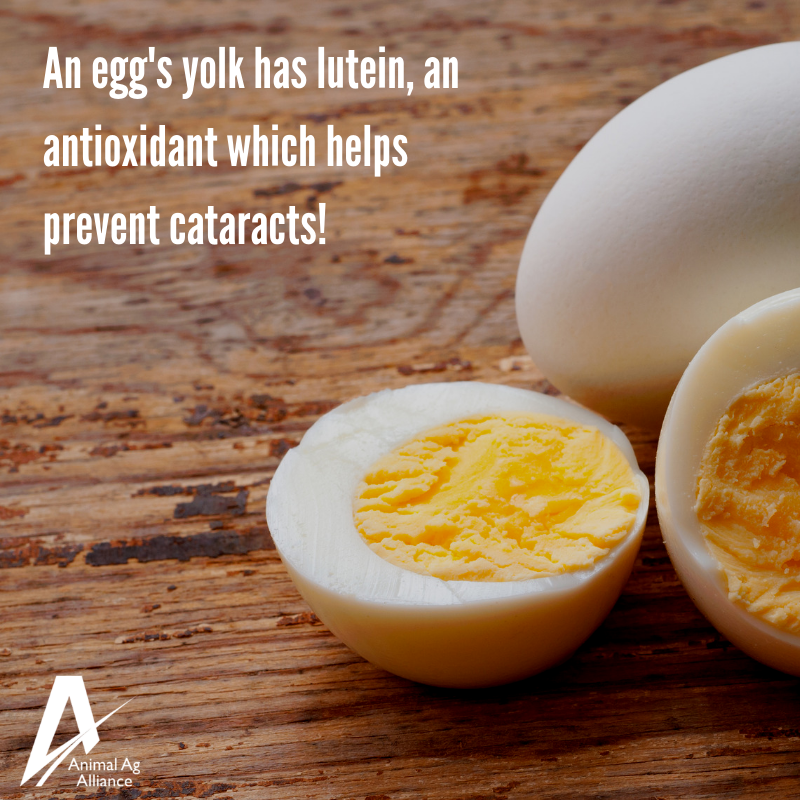 While egg whites contain some of the eggs' high-quality protein, riboflavin and selenium, the majority of an egg's nutrient package is found in the yolk! https://bit.ly/2JAMQ9C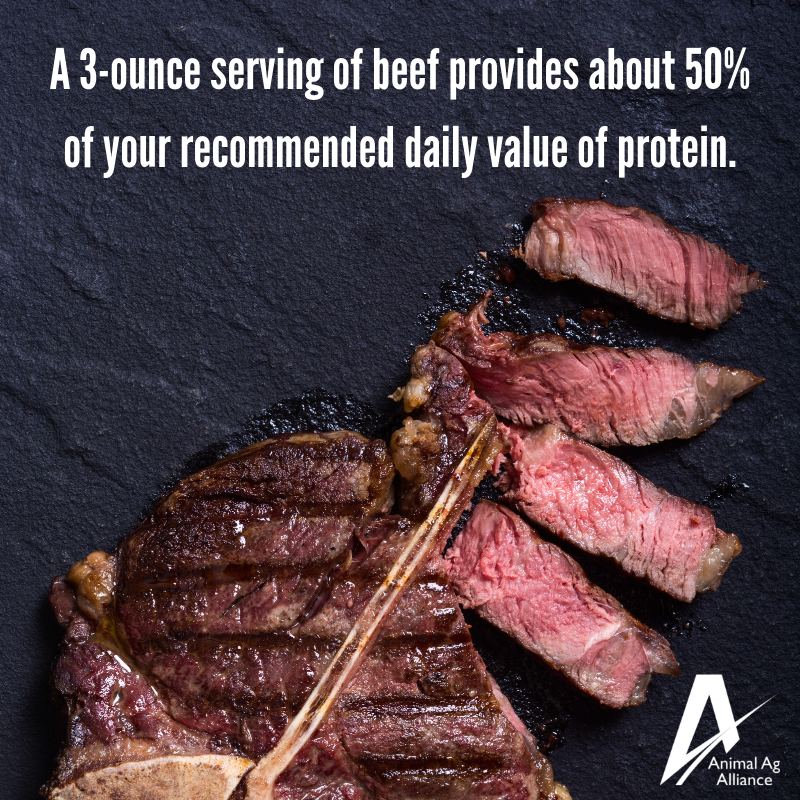 A 3-ounce serving of beef is packed with protein, not calories. https://bit.ly/2GXOLFj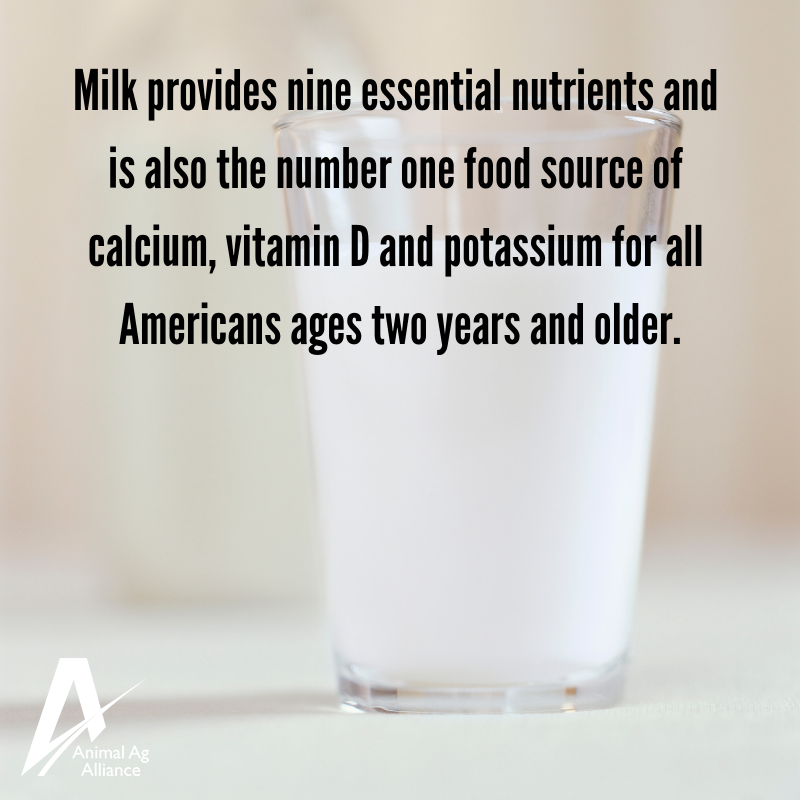 A single glass of milk has nine essential nutrients: vitamin A, niacin, vitamin B12, riboflavin, vitamin D, calcium, vitamin B5, phosphorus and protein! https://bit.ly/2qjGHEU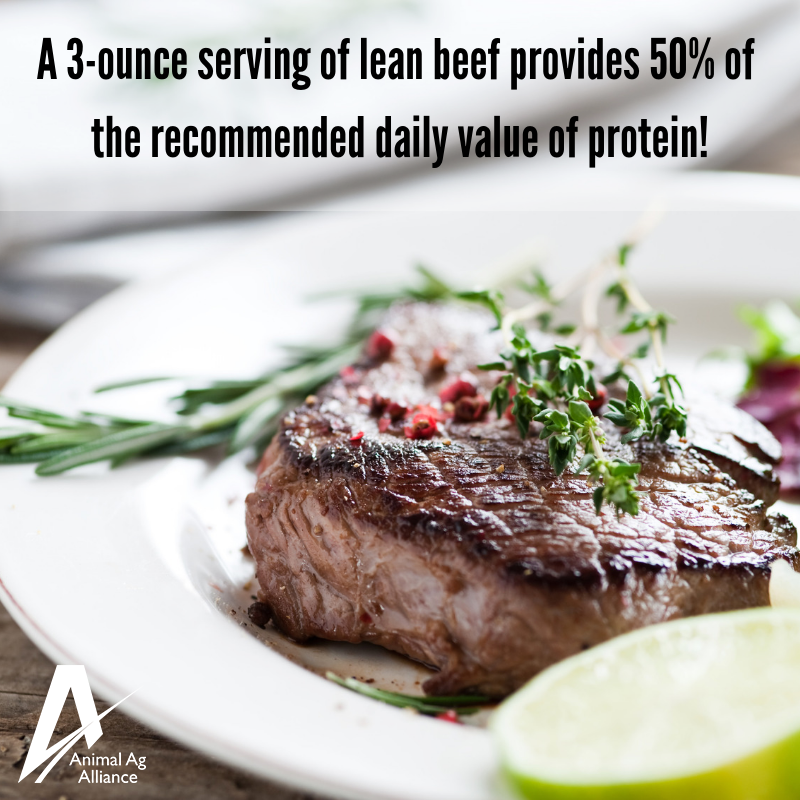 One 3-ounce serving of lean beef provides 50% of the recommended daily value of protein and only 170 calories! You would have to eat 666 calories of quinoa to get the same amount of protein… https://bit.ly/2GXOLFj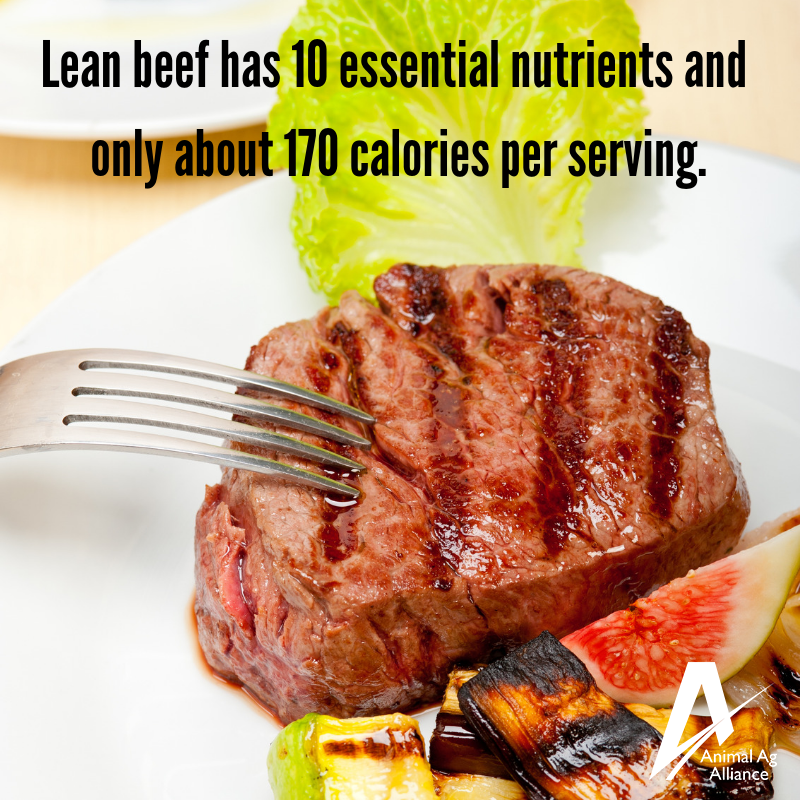 When it comes to beef and your health, you can rest easy knowing that along with being delicious, beef contains important nutrients that your body needs! https://bit.ly/2GXOLFj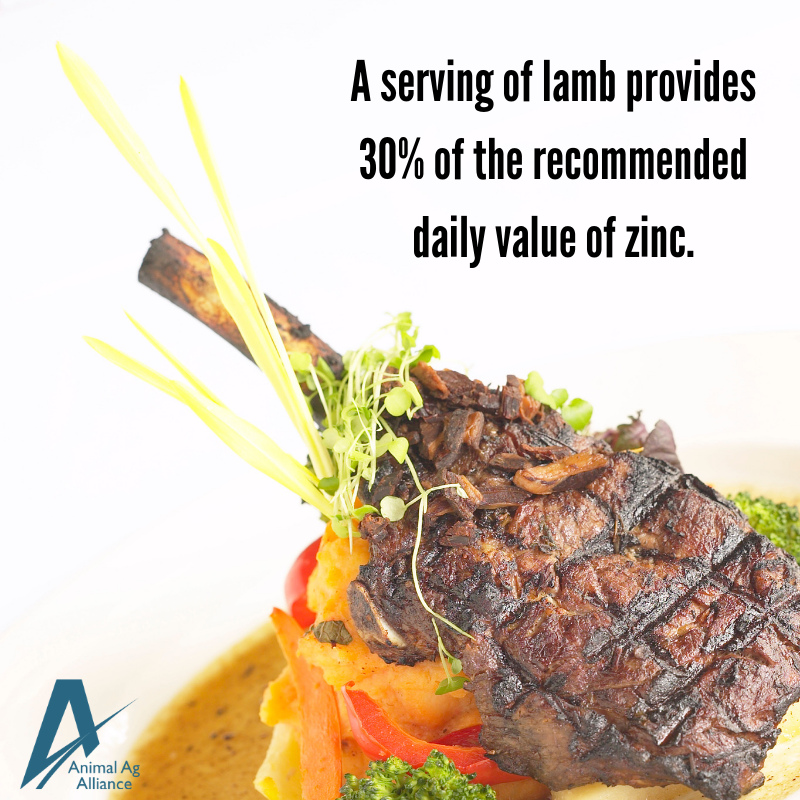 Lamb is packed with many essential nutrients, including selenium, riboflavin, vitamin B12, niacin, iron and zinc! https://bit.ly/2LMwbm2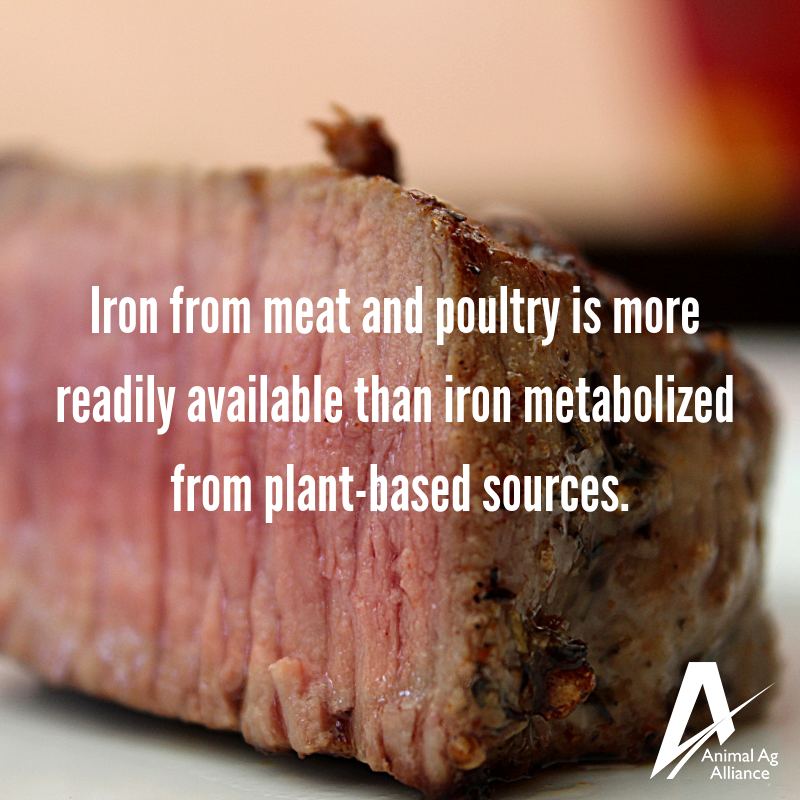 A balanced plate can have meat and veggies! https://bit.ly/2sdcdWE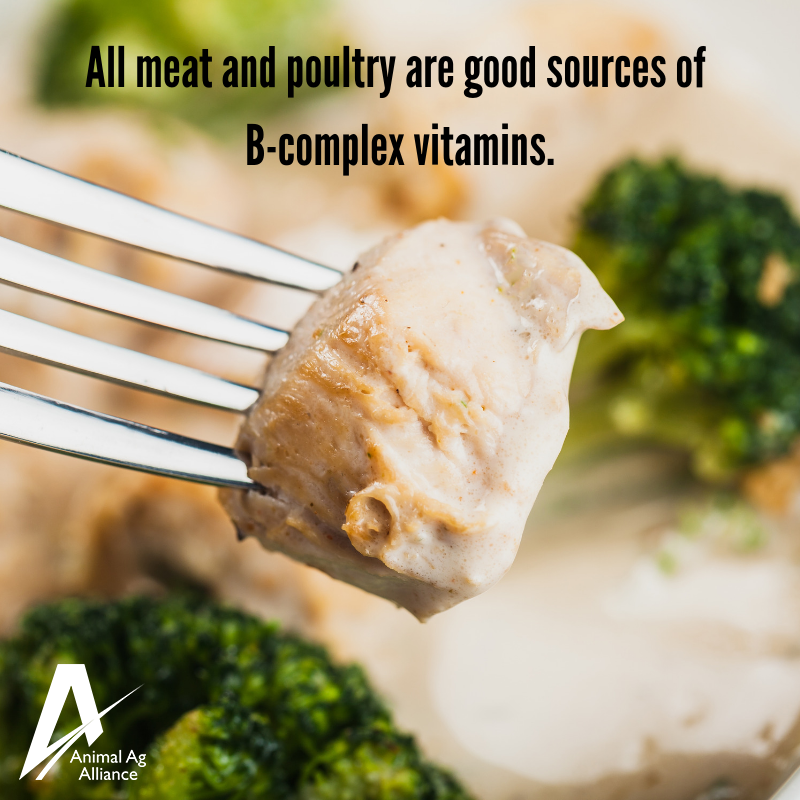 All meat and poultry are good sources of B-complex vitamins. This complex helps to metabolize macronutrients, aid in the release of energy from food and even lower bad cholesterol. https://bit.ly/2sdcdWE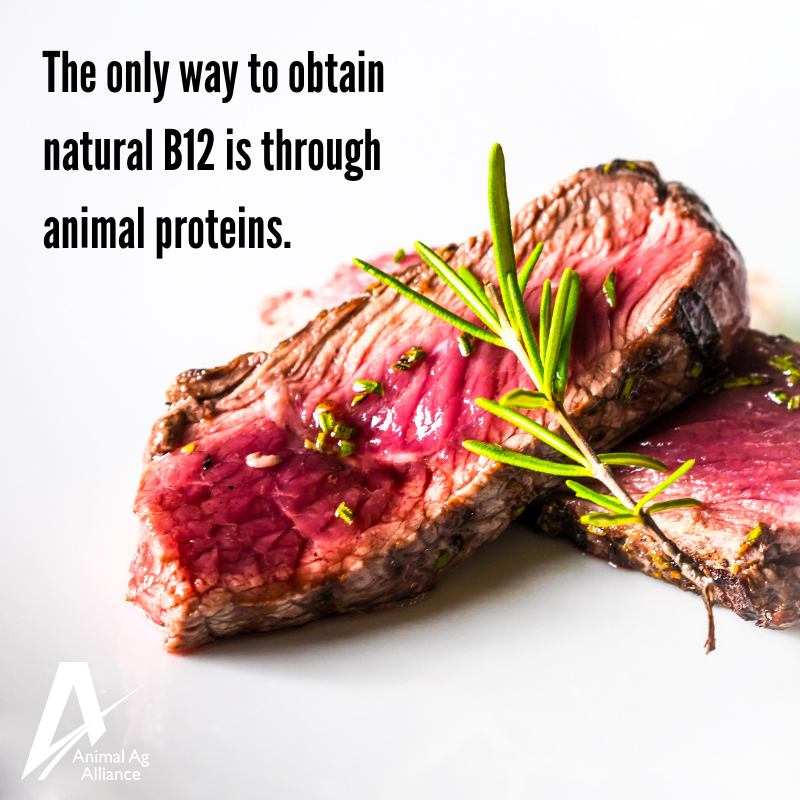 The only way to obtain natural B12 is through animal proteins. Vitamin B12, which helps to build red blood cells, also helps metabolize carbohydrates and fats. https://bit.ly/2sdcdWE
Myth: Meat, poultry and eggs are not part of a healthy diet.
Fact: Experts agree that meat matters. Balanced diets that include lean meat, poultry and fish, plenty of fruits and vegetables, and whole grains increase the chance that all essential nutrients will be consumed. http://bit.ly/2b8cSny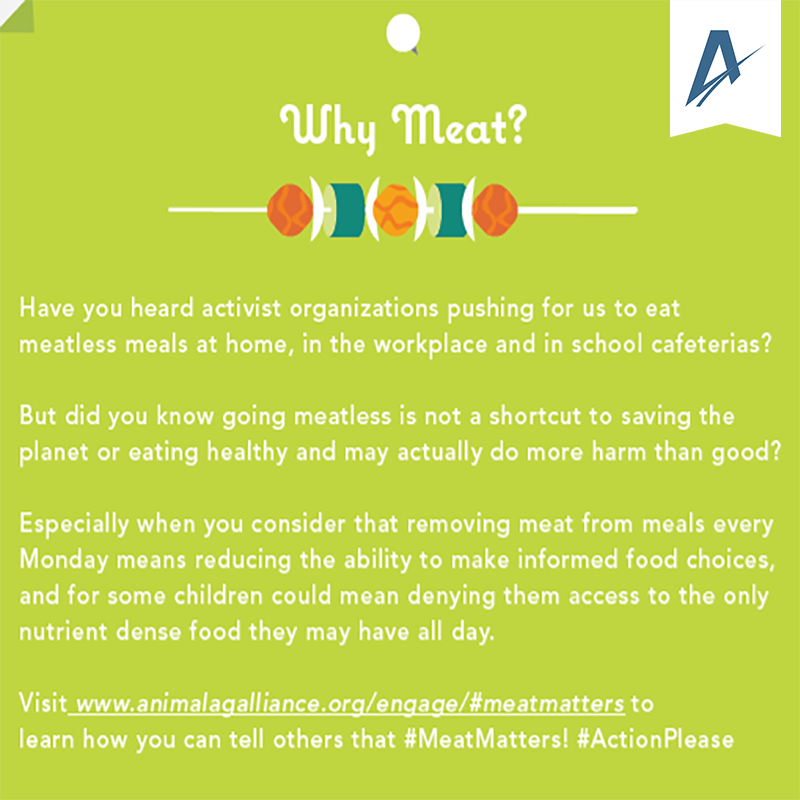 Meatless Monday seeks to eliminate consumer choice – the ability that we each have to determine the right food choices for ourselves and our families. http://bit.ly/2bDg870
Protein, zinc, iron & vitamin B are nutrients found in meat, poultry and eggs! http://bit.ly/2bDg870 #MeatMatters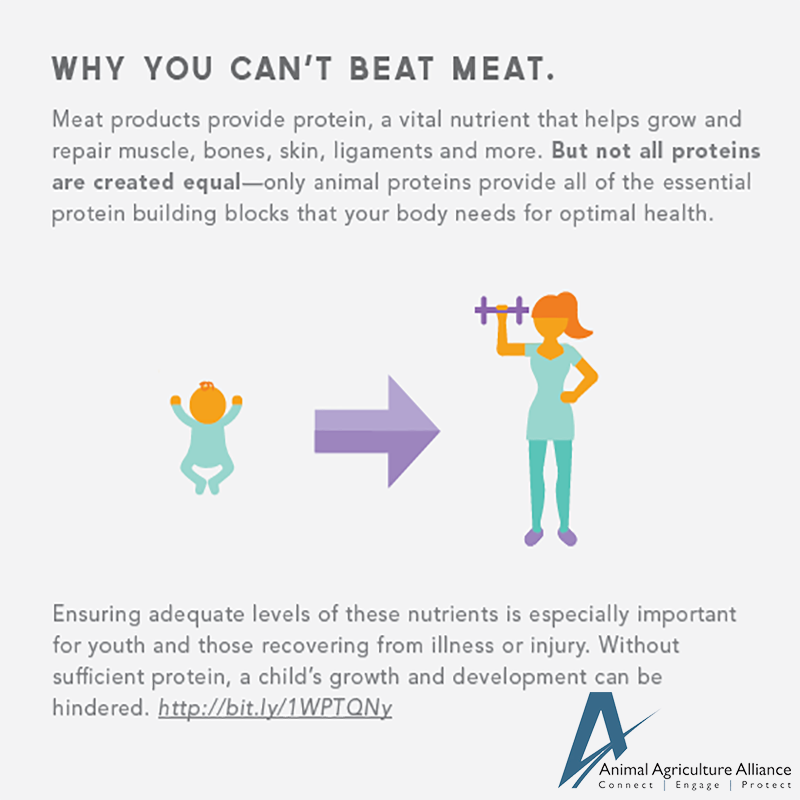 Protein from meat provides all the essential building blocks your body needs to repair muscle, bones, skin, ligaments and to promote optimal health. http://bit.ly/2b8e4ag  #MeatMatters
Tweets:
Protein, zinc, iron & vitamin B12 are nutrients found in meat, poultry & eggs! http://bit.ly/2bDg870 #MeatMatters
Meatless Monday seeks to eliminate consumer choice. http://bit.ly/2bDg870 #MeatMatters
9 Ways To Start Your Day With #Protein http://bit.ly/2biGB9X #MeatMatters
At less than 25 cents a glass, #milk is America's number 1 food source of calcium, potassium & vitamin D http://bit.ly/2aXtNsU
6 #Protein Pairings For Healthier Mornings http://bit.ly/2b24Dt3 #MeatMatters
Animal products, including meat, fish, dairy and eggs, are the only natural sources of B12. http://bit.ly/2biBzdI #MeatMatters
Eggs contain zero carbs and no sugar, so you can eat a well-rounded #breakfast without feeling round yourself. http://bit.ly/1O67ZCe
Fat free, reduced fat, low fat – what's the difference? Check out the definitions here: http://bit.ly/2biCBpU #MeatMatters
Milk, cheese & yogurt provide a unique package of nine essential nutrients http://bit.ly/2aq8Hj8 #Dairy3ForMe
Eggs are rich in choline, which promotes normal cell activity and liver function! http://bit.ly/1O67ZCe #MeatMatters
Evidence supports lean red meat's inclusion in diets for cardiovascular health. http://bit.ly/2b23rWK #MeatMatters
Today's pork is 16% leaner and 27% lower in saturated fat compared to 20 years ago! http://bit.ly/2BixkK7 #MeatMatters
All "Milks" Are Not Created Equal: 9 Essential Nutrients in Cow's #Milk http://bit.ly/2b42g8Y
#Pork tenderloin is certified as heart-healthy by the American Heart Association http://bit.ly/2b44Xrb #MeatMatters
How much do you know about #meat? Check your Meat IQ with this quiz: http://bit.ly/2biC9b8 #MeatMatters
A 3-ounce serving of boneless, skinless #turkey breast contains 26g protein, 1g fat & 0g saturated fat. http://bit.ly/2bDng3d #MeatMatters
Three servings of #milk delivers a unique nutrient package http://bit.ly/2b25CJx  #Dairy3ForMe
Did you know: #eggs have 6 grams of protein! http://bit.ly/1O67ZCe #MeatMatters
#Pork is both a good source of protein and also provides several important vitamins and minerals. http://bit.ly/2b44Xrb #MeatMatters
Myth: Spinach and Other Vegetables are Equally Good Sources of Iron as Meat http://bit.ly/2biYYvr #MeatMatters
For everything #turkey, check out @ServeTurkey http://bit.ly/2bJerF8 #MeatMatters
#Lamb is a lean meat packed with nutrients! http://bit.ly/2bI6Cza #MeatMatters
Balanced diets include lean meat, poultry and fish! http://bit.ly/2b8cSny #MeatMatters
Why you can't beat meat: http://bit.ly/2b8e4ag #MeatMatters
Category: Social Media
Tag: Meat Matters,Nutrition,Social Media,