Last chance for college students to enter 10th annual agriculture scholarship competition
College Aggies Online scholarship competition kicks off today
September 10, 2018 – The Animal Agriculture Alliance launched its 10th annual College Aggies Online scholarship competition today in which students will compete for more than $25,000 in scholarships while advocating for agriculture. Undergraduate students, graduate students and collegiate clubs can sign up through September 21 at https://collegeaggies.animalagalliance.org.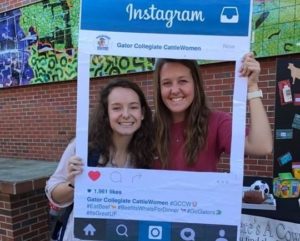 Students are guaranteed to become more confident communicators as they learn the fundamentals of agriculture communication from industry mentors throughout the nine-week competition. Students and collegiate clubs invite their peers to have a conversation about agriculture both online and in person while learning the dos and don'ts of social media and how to host a successful event, such as a farm tour, school visit and campus booth.
Each week CAO mentors will offer their advice and expertise. This year's mentors include:
Amber Pankonin, Registered Dietitian Nutritionist, Stirlist.com
Anna Leigh Peek, communications specialist, U.S. Poultry and Egg Association
Casey Kinler, communications manager, Animal Agriculture Alliance
Charmayne Hefley, social media specialist, Pilgrim's Pride
Chloe Carson, manager of digital communications, National Pork Producers Council
Codi Coulter, communications coordinator, American Feed Industry Association
Don Schindler, senior vice president of digital innovations, Dairy Management Inc.
Tim Hammerich, agribusiness recruiter and founder, Ag Grad, LLC
Wanda Patsche, farmer and blogger, Minnesota Farm Living
Since 2009, the Alliance has awarded more than $85,000 in scholarships. "This is a tremendous opportunity for college students to expand their portfolios and skillsets," said Kay Johnson Smith, Alliance president and CEO. "We are eager to support future agriculture leaders as they learn the ropes about communicating effectively online and in person."
CAO would not be possible without the generous support of our 2018 program sponsors including: Dairy Management Inc., Seaboard Foundation, National Pork Industry Foundation, Cooper Family Foundation, Diamond V, Bayer, National Corn Growers Association, National Pork Board, Alltech, Vivayic, Ohio Poultry Association, Domino's Pizza Inc., National Chicken Council and Pennsylvania Beef Council.
To become a sponsor of this year's program, contact Allyson Jones-Brimmer, director of industry relations at ajonesbrimmer@animalagalliance.org.
About the Alliance:
The Animal Agriculture Alliance is an industry-united, nonprofit organization that helps bridge the communication gap between farm and fork. We connect key food industry stakeholders to arm them with responses to emerging issues. We engage food chain influencers and promote consumer choice by helping them better understand modern animal agriculture. We protect by exposing those who threaten our nation's food security with damaging misinformation. Find the Alliance on Facebook, Twitter, and Instagram.
Category: Press Releases
Tag: College Aggies Online,