Industry leaders will tackle questions about sustainability in beef industry supply chain at Summit
Livestock Marketing Association, Blythe Angus and Tyson Foods to take their seat at the table
March 5, 2019 – The Animal Agriculture Alliance's 2019 Stakeholders Summit themed, A Seat At The Table, will be held May 8-9 at the InterContinental at the Plaza Hotel in Kansas City, Missouri. Discounted registration rates are available through April 1. To view the agenda and register, visit http://summit.animalagalliance.org.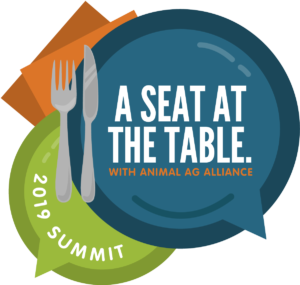 The cattle industry involves many segments. Cow-calf producers raise calves that are then sold, often at a livestock auction market. From there the cattle are often backgrounded prior to being sold again to a feedyard. How do all the stops along this chain work together on industry-focused animal welfare and sustainability efforts? How are Beef Quality Assurance and the U.S. Roundtable for Sustainable Beef efforts perceived by packers and retailers looking to add accountability in their supply chain? Can we make some of these topics "pre-competitive" or will brands insist on their own programs to differentiate?
Summit will feature a panel titled, "From Birth to Burger: Industry-Led Beef Supply Chain Animal Welfare & Sustainability Efforts," to tackle these questions and more. Panelists include Kristen Parman, vice president of membership services at Livestock Marketing Association, Debbie Lyons-Blythe, rancher at Blythe Angus and Justin Nelson, vice president of procurement at Tyson Foods.
Kristen Parman is a native of Buffalo, Missouri, where she was raised in the livestock and livestock marketing industry. Growing up on a commercial cow-calf operation in southwest Missouri, working with the family livestock trucking company and the local livestock auction market has given her a well-rounded view of the livestock industry and the importance of seeing an issue or service from the perspective of all sizes of operations. A 2001 graduate of Missouri State University, she spent time with LMA as an intern in the membership services department before earning her bachelor's degree in agricultural business.
Debbie Lyons-Blythe is a cattle rancher in the Flint Hills of Kansas. She and her husband Duane Blythe run a registered Angus cowherd, as well as a crossbred herd. In addition, they raise 350 heifers that they sell as bred heifers across the nation. Blythe Family Farms is a founding member of the US Roundtable for Sustainable Beef and Lyons-Blythe serves as the secretary treasurer for the group.
Justin Nelson began his career with then IBP – now Tyson Foods – in 2002. He was hired as a supervisor trainee in the Lexington Nebraska beef plant. For the next 5 years he would learn the ins and outs of the Packing house. Not only did he learn product specs across the floor, ground beef, trim and the multi vacs but he learned how to manage people, and produce a product that IBP/ Tyson is proud to provide for our customers. In 2008 an opportunity in Cattle Procurement opened up for Nelson and his true passion and experience in the industry would shine. Nelson has built his career with Tyson Foods and currently is the Vice President of Cattle Procurement for the company.
Be sure to check the Summit website for the most up-to-date Summit information. You can also follow the hashtags #AAA19 for periodic updates about the event. For general questions about the Summit please contact summit@animalagalliance.org or call (703) 562-5160.
Get involved:
Show your support for the Alliance's outreach efforts by becoming an official Summit sponsor today! For 2019 sponsorship opportunities, please visit http://summit.animalagalliance.org. For more information, contact Allyson Jones-Brimmer at ajonesbrimmer@animalagalliance.org.
Thank you to our 2019 Summit sponsors: Watt Global Media, Farm Journal Media, Meatingplace, National Provisioner, American Feed Industry Association, National Pork Producers Council, National Cattlemen's Beef Association, National Pork Board, Smithfield, United Soybean Board, National Turkey Federation, Dairy MAX, Farm Credit, Country Folks, National Biodiesel Board, Summit Livestock Facilities, United Egg Producers, Cobb-Vantress, Inc., Council for Biotechnology Information, Protect the Harvest, American Farm Bureau Federation, American Veal Association, BPI Technology, Inc., Kemin, National Chicken Council, Live Oak Bank, North Carolina Farm Bureau, Vivayic, Eggland's Best, Braake Consulting, Inc., Food Industry Environmental Network, Kansas Farm Bureau and Kansas Soybean.
The Alliance also thanks the following members for their continued support of Summit and other Alliance programs: U.S. Poultry & Egg Association, Merck Animal Health, Charleston|Orwig, Diamond V, Zoetis, Alltech, Inc., Aviagen Group, Bayer Animal Health, Boehringer Ingelheim, Dairy Farmers of America, Genus PLC – PIC/ABS, Hendrix Genetics, Hy-Line North America LLC, Iowa Soybean Association, Midwest Dairy, Nutrien, Provimi North America, Inc. and Seaboard Foods LLC.
About the Alliance:
The Animal Agriculture Alliance is an industry-united, nonprofit organization that helps bridge the communication gap between farm and fork. We connect key food industry stakeholders to arm them with responses to emerging issues. We engage food chain influencers and promote consumer choice by helping them better understand modern animal agriculture. We protect by exposing those who threaten our nation's food security with damaging misinformation. Find the Alliance on Facebook, Twitter, and Instagram.
Category: Press Releases
Tag: Beef, Stakeholders Summit, Sustainability,