Identify new ways to position animal protein as the "star" of the plate at 2021 Virtual Summit
Farmer and rancher photo and video contest ends Friday
March 22, 2021 – Animal protein has traditionally been viewed as the "star" of the plate but as conversations around environmental sustainability, animal welfare and nutritional concerns heat up, some are suggesting we take it off our plates altogether. A panel of experts at the Animal Agriculture Alliance's 2021 Virtual Stakeholders Summit will discuss the realities of these issues and identify ways to reposition animal protein to maintain its central spot on our tables.
The Alliance's annual Summit brings together thought leaders in the agriculture and food industries to discuss hot-button issues and out-of-the-box ideas to connect everyone along the food chain, engage influencers and protect the future of animal agriculture. The 2021 event, themed "Obstacles to Opportunities," is scheduled for May 5-6 with preconference webinars planned for the five business days prior, beginning on Wednesday, April 28.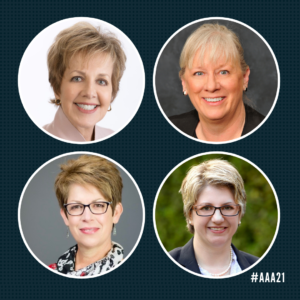 Growing concerns from some consumers and individuals in the public health communities in developed countries have ramped up discussions about reducing meat consumption. However, during the initial food-buying frenzy of COVID-19, animal protein purchases surged in the United States. Simultaneously, developing countries are reaching for animal proteins as they aspire to improve nutrition deficiencies. With these competing scenarios and the dialogues surrounding the 2021 UN Food Systems Summit, farmers and ranchers have a critical communication opportunity. Virtual Summit panel "Obstacle to Opportunity: Repositioning Animal Protein on the Plate" will consider how animal protein is positioned within the nutrition, climate change and environmental sustainability discussions. Panelists include:
Marianne Smith Edge, RDN, Founder and Principal, The AgriNutrition Edge
Rebecca Carlisle Doyle, Pork Producer, Former Illinois Director of Agriculture and UN World Food Programme Director
Jennifer L. Garrett, PhD, Consultant, Agricultural Strategies and Sustainability
Rachel Kopay, Consultant, Dairy and Food Safety and Sustainability
"Meat consumption is frequently a topic of discussion as activist groups and media outlets claim that animal proteins are the cause of many consumer concerns including climate change and obesity," said Hannah Thompson-Weeman, Alliance vice president, strategic engagement. "However, research shows that animal agriculture has an opportunity to be viewed as a solution to many of these obstacles while securing its position on the plate."
The Virtual Summit agenda featuring the exciting and high-caliber speakers you can expect to see at the 2021 event has been posted on the Virtual Summit registration website. Sessions will highlight ways to position animal agriculture as a path forward to climate neutrality, how to elevate the voices of farmers in dialogues surrounding food and agriculture, and strategies for virtual stakeholder and influencer engagement.
Farmers and ranchers interested in attending the Virtual Summit are encouraged to enter the Alliance's photo and video contest. To enter, competitors need to post a photo or video showing their farm's resiliency and adaptability over the years on Instagram with the hashtag #AAA21 and tag the Animal Agriculture Alliance (@animalagalliance). Be sure to include a caption about how your farm has remained resilient and why you'd like to attend the 2021 Virtual Summit! Entries must be posted by March 26 to be considered to win one of five prizes, including free Virtual Summit registration!
Be sure to check the Virtual Summit website for the most up-to-date information and to register. You can also follow the hashtag #AAA21 for periodic updates about the event. For general questions about the Summit please contact summit@animalagalliance.org or call (703) 562-5160.
Get involved:
Show your support for the Alliance's outreach efforts by becoming an official Summit sponsor today! For 2021 sponsorship opportunities, please visit https://animalagalliance.org/initiatives/stakeholders-summit/. For more information, contact Casey Kinler at ckinler@animalagalliance.org.
Thank you to our 2021 Summit sponsors: Watt Global Media, Farm Journal, Meatingplace, National Pork Producers Council, National Cattlemen's Beef Association, Smithfield, National Pork Board, American Feed Industry Association, United Soybean Board, United Egg Producers, Country Folks, Dairy MAX, Farm Credit, National Biodiesel Board, Cobb Vantress, Inc., Protect the Harvest, Progressive Dairyman, The National Provisioner, Kemin, American Farm Bureau Federation, American Veal Association, National Chicken Council, Trans Ova Genetics, Vivayic, Mountaire Farms, North Carolina Farm Bureau and Eggland's Best.
The Alliance also thanks the following members for their continued support of Summit and other Alliance programs: U.S. Poultry & Egg Association, Zoetis, Merck Animal Health, C.O.nxt, Diamond V, Genus PLC – PIC/ABS, Aviagen Group, Boehringer Ingelheim, Cargill, Dairy Farmers of America, Hendrix Genetics, Hy-Line North America, LLC, Iowa Soybean Association, Midwest Dairy, National Turkey Federation, Nutrien, Provimi North America, Inc., Seaboard Foods and Tyson Foods Inc.
Category: Press Releases
Tag: Stakeholders Summit,