How will the 2016 Presidential Election impact animal agriculture?
Tyson Redpath with The Russell Group to share insights at 2016 Summit
March 2, 2016 – With Super Tuesday behind us, the race to the White House is in full swing. While issues in food and agriculture are seldom brought up at campaign rallies or on debate stages, they are integral to the economy, trade and national security. With candidates dropping out and frontrunners emerging, it's time to take a critical eye to the presidential hopefuls and how their leadership may impact animal agriculture.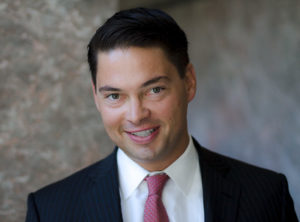 Tyson Redpath, senior vice president with The Russell Group, will take the stage at the 2016 Animal Agriculture Alliance Stakeholders Summit to discuss what might be in store for animal agriculture under the administration of the remaining candidates. The Summit, themed "Securing Animal Agriculture's Future: Action, Please!", will be held May 5-6 at the Westin Arlington Gateway in Arlington, Va. Redpath will also offer attendees recommendations for getting involved in the political process to help shape agriculture policy.
The Russell Group is a firm specializing in food and agriculture that provides government relations, public affairs, policy development, interest group outreach, forecast and analysis and strategic counsel to clients. The Russell Group team's expertise includes animal health, antibiotic stewardship, production agriculture, trade, agricultural research and food safety. The firm was ranked as the 9th top-performing lobbying firm in 2015 by Bloomberg Government and is one of only two firms to make the top performers list for the fourth time in a row.
"Proactive engagement with legislators and government officials is critical for the animal agriculture community to promote understanding the issues facing farmers and ranchers," said Kay Johnson Smith, Alliance president and CEO. "Tyson's background in agriculture and expertise in government affairs make him a perfect fit for our Summit. His informed forecasts and practical advice will help our attendees take their public policy work to the next level."
Redpath grew up in Oxford, Ohio working at his family's John Deere dealerships and went on to earn a degree in public affairs from Indiana University. Proudly telling his grandfather that one day he would be President, he moved to Washington, D.C. after graduation and began working for his local Congressman, U.S. Representative John Boehner (R-OH). Redpath twice served on Boehner's staff eventually advising him on things like agriculture, financial services, trade, and tax policy.
His more noteworthy legislative accomplishments included the Child Nutrition and WIC Reauthorization Act, the American Jobs Creation Act and the Healthy Forests Restoration Act. Redpath has also hit the campaign trail a couple of times working on a Congressional election in Arkansas in 2000 and for President Bush at the New York City GOP Convention and in Ohio during the 2004 campaign. He has also worked for the law firm of Olsson, Frank and Weeda, P.C. and directed government relations for the National Grain Trade Council.
The Stakeholders Summit is a one-of-a-kind conference attended by a diverse group of decision makers, including representatives from farms, ranches, food processors, restaurants, grocery stores, legislatures, universities and government agencies. This year's Summit will focus on securing a bright future for animal agriculture by finding solutions to the challenges facing the industry today. Attendees will hear from thought-provoking speakers, participate in engaging discussions and leave with actionable ideas that they can immediately implement on their operations or in their businesses.
Be sure to check the Alliance website for the most up-to-date Summit information. You can also follow the hashtag #AAA16 for periodic updates about the event. For general questions about the Summit please contact summit@animalagalliance.org or call (703) 562-5160.
Details:
Early registration (available through April 1, 2016) for the one-and-a-half day event is $375 for Alliance members, $425 for non-members and $325 for those in government or academia. Members of the media receive complimentary registration and should contact Hannah Thompson at hthompson@animalagalliance.org for instructions on how to register. Registration materials and full event schedule (as of March 1, 2016) can be found at www.animalagalliance.org/summit.
This year's Summit will be held at the Westin Arlington Gateway in Arlington, Va. Rooms are available at a special group rate by visiting the hotel's website or calling 1-888-627-7076.
Refer a Friend:
Help us spread the word about Summit! If you refer a friend to attend the 2016 Stakeholders Summit who has never attended a pervious Stakeholders Summit and they list your name as their recommender when they register for the event, you'll both be entered in a drawing to win a $100 gift card! Each referral will count as one entry and there is no limit on the number of entries for referrers. We will give away two $100 gift cards at the 2016 Stakeholders Summit – one drawing for referrers and one drawing for those who were referred. All registrations with a referral listed made until online registration closes on May 4 will be entered. Must be present at the 2016 Stakeholders Summit to claim your gift card.
Get involved:
Show your support for the Alliance's outreach efforts by becoming an official Summit sponsor today! For a complete listing of Summit sponsors or to watch video recordings from the 2015 Summit please visit www.animalagalliance.org/summit. For more information on sponsorship opportunities, contact Allyson Jones-Brimmer at ajonesbrimmer@animalagalliance.org.
Current 2016 sponsors include: U.S. Poultry & Egg Association, Meatingplace, Farm Journal Media, Watt Global Media, Farm Credit, American Feed Industry Association, National Pork Board, National Cattleman's Beef Association, Alltech, Zoetis, Diamond V, Charleston|Orwig, National Pork Producers Council, Merck Animal Health, Smithfield, Provimi, Bayer Animal Health, PotashCorp, Seaboard Foods, Iowa Soybean Association, Aviagen, Cattle Empire, Council for Biotechnology Information/GMO Answers, The National Turkey Federation's 20 by 2020 Project, United Egg Producers, Kemin Industries, American Veal Association, Cobb-Vantress, GNP Company, Agri Beef Co. and the Food Industry Environmental Network.
About the Alliance:
The Animal Agriculture Alliance is an industry-united, nonprofit organization that helps bridge the communication gap between farm and fork. We connect key food industry stakeholders to arm them with responses to emerging issues. We engage food chain influencers and promote consumer choice by helping them better understand modern animal agriculture. We protect by exposing those who threaten our nation's food security with damaging misinformation.
Find the Alliance on Facebook and Twitter.
Category: Press Releases
Tag: Presidential Election,