Hear from farmers on the front lines of consumer engagement at Virtual Summit
Event to be held Thursday, May 7 and Friday, May 8; registration closes Tuesday May 5
May 4, 2020 – The Animal Agriculture Alliance's 2020 Virtual Stakeholders Summit, themed "Primed & Prepared," will be held on May 7-8. Registration for the event is open through Tuesday, May 5. The Virtual Summit also includes a series of preconference webinars which began last week with two successful sessions focusing on sustainability.
The Alliance's annual Summit brings together thought leaders in the agriculture and food industries to discuss hot-button issues and out-of-the-box ideas to connect everyone along the food chain, engage influencers and protect the future of animal agriculture. Attendees will leave the 2020 Virtual Summit primed and prepared with the tools they need to take action and be part of any and all conversations that could impact the future of animal agriculture and their business.
The animal agriculture community has been asking farmers to "tell their story" for years – but are they getting enough support? Do they have the resources they need from the industry to engage influencers and withstand activist targeting? In a Virtual Summit session on Friday, May 8 titled "Farmers on the Front Lines: Are They Prepared?", farmers who have been on the front lines of communicating about issues in animal agriculture will share their experiences and offer recommendations of how companies and organizations can better support their efforts.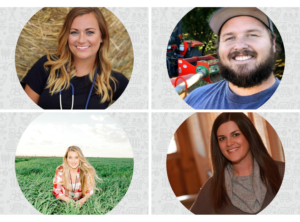 Panelists include:
Tara Vander Dussen, dairy farmer, environmental scientist and blogger known as New Mexico Milkmaid

Michelle Miller, sheep and cattle farmer and blogger known as the Farm Babe
Marissa Hake, DVM, veterinarian, pig and cattle farmer and CalfVet on social media
Ryan Valk, almond and poultry farmer and CaliforniaFarmeron social media
"We are so pleased with the feedback we're getting already from the record-setting crowd of Virtual Summit attendees about our first preconference webinars," said Kay Johnson Smith, Alliance president and CEO. "Our first speakers have set the bar quite high but I am confident the rest of the outstanding lineup will be able to match it. I'm especially excited to hear from this group of farmers who have dedicated so much time and effort to representing animal agriculture online. All of our attendees will benefit from hearing about their experiences and finding new ways the animal agriculture community can support their work."
Virtual Summit registration is open through Tuesday, May 5 at Summit.AnimalAgAlliance.Org. Registration will give attendees exclusive access to 13 hours of live, dynamic content spread out among a series of preconference webinars and the two-day virtual event. Recordings from each session will also be available only to confirmed virtual attendees through the end of 2020. Attendees will also enjoy digital networking opportunities that are more valuable than ever in today's challenging environment.
The Virtual Summit Silent Auction is also now open through Friday, May 8. Proceeds benefit the Alliance's College Aggies Online scholarship program. You do not have to be a registered Virtual Summit attendee to participate in the auction. Items up for grabs include Steel Cow artwork donated by Cooper Farms, a Charles Henry Gray Party Ham donated by Smithfield, gift cards donated by Domino's and a Holy Cow couture handbag donated by the American National Cattlewomen.
Be sure to check the Virtual Summit website for the most up-to-date Virtual Summit information and the full agenda. You can also follow the hashtags #AAA20 and #PrimedAndPrepared for periodic updates about the event. For general questions about the Summit please contact summit@animalagalliance.org or call (703) 562-5160.
Thank you to our 2020 Summit sponsors: Watt Global Media, Farm Journal, Meatingplace, National Pork Producers Council, National Cattlemen's Beef Association, Smithfield, National Pork Board, American Feed Industry Association, United Soybean Board, The National Provisioner, Elanco, Country Folks, Dairy MAX, Farm Credit, National Biodiesel Board, United Egg Producers, Zoetis, Cobb Vantress, Inc., Protect the Harvest, Progressive Dairyman, Agri Beef, American Farm Bureau Federation, American Veal Association, Empirical, Kemin, National Chicken Council, Trans Ova Genetics, Vivayic, Mountaire Farms, North Carolina Farm Bureau, Brakke Consulting, Food Industry Environmental Network and Eggland's Best.
The Alliance also thanks the following members for their continued support of Summit and other Alliance programs: U.S. Poultry & Egg Association, Alltech, Inc., Cattle Empire, LLC, Charleston|Orwig, Diamond V, Genus PLC – PIC/ABS, Hy-Line North America LLC, Iowa Soybean Association, Merck Animal Health, National Turkey Federation, Nutrien, Aviagen Group, Boehringer Ingelheim, Cargill, Dairy Farmers of America, Hendrix Genetics, Provimi North America, Inc. and Seaboard Foods.
About the Alliance:
The Animal Agriculture Alliance is an industry-united, nonprofit organization that helps bridge the communication gap between farm and fork. We connect key food industry stakeholders to arm them with responses to emerging issues. Weengage food chain influencers and promote consumer choice by helping them better understand modern animal agriculture. We protect by exposing those who threaten our nation's food security with damaging misinformation.
Find the Alliance on Facebook, Twitter, and Instagram.
Category: Press Releases
Tag: Stakeholders Summit,