Farmer Featured on Undercover Boss to Speak at Alliance Summit
California dairy farmer Brad Scott to discuss "Changing Perceptions with a Reality Show"
 March 17, 2015 – Brad Scott, partner in Scott Brothers Dairy Farm in San Jacinto, Calif., will address attendees at the Animal AgricultureAlliance's annual Stakeholders Summit, to be held May 6-7, 2015 in Kansas City, MO.  Early registration is now available for the 2015 edition of the Alliance's showcase event, themed "The Journey to Extraordinary."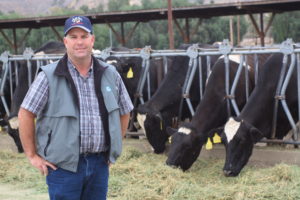 Scott Brothers Dairy was featured on an October 2013 episode of the reality television show Undercover Boss focused on Menchie's Frozen Yogurt, a Los Angeles-based chain with more than 350 locations globally. The episode followed Menchie's CEO Amit Kleinberger as he made undercover visits to several store locations as well as Scott Brothers Dairy Farm, which supplies frozen yogurt mix to the franchise. Scott was the only Scott Brothers representative who was aware of the Undercover Boss filming until the episode was complete.
Scott owns and operates the 1,000-cow dairy along with his brother, Bruce and his father, Stan. The milk travels to their nearby manufacturing plant, Scott Bros. Dairy, where it is bottled or turned into frozen yogurt mixes and other popular dairy foods. As a fourth generation dairyman, Scott along with his family partners, believes in the importance of sustainable agriculture. Scott Brothers Dairy Farms recycle the water used by the dairy from the municipality to grow crops that feed the cows. They've also installed more than 300 solar panels to produce some of the electricity for the farm and to help offset their carbon footprint. Most recently, they entered a partnership with Ag Waste Solutions that will convert cow manure into diesel fuel to power their farm equipment.
Currently, Scott serves as a director of the Dairy Council of California. He is the past chair of the California Farm Bureau Young Farmers & Ranchers and the California Beef Council, where he still serves as a board member. He is a county and state DHIA board member. Additionally, Scott has served on the board of the Dairy Management Inc. as well as on committees of the National Cattlemen's Beef Association.
"Usually the word 'undercover' has negative connotations in our industry," said Kay Johnson Smith, Alliance president and CEO. "We're excited to have Brad share how his unique undercover experience turned out very positively for Scott Brothers Dairy Farm. With restaurants and retailers regularly announcing new sourcing policies, supplier relationships are becoming increasingly important. Summit attendees will definitely benefit from hearing about how they can apply the lessons Brad learned from his experience, even without appearing on the small screen."
The Summit is a one-of-a-kind conference, ideal for networking across sectors of the food chain as it is attended by a diverse group of decision makers, including representatives from farms, ranches, food processors, restaurants, grocery stores, legislators, universities and government agencies. The 2015 event, set in Kansas City, Mo., will be the first edition of the Summit held outside of the Washington, DC area.
This year's event will explore animal agriculture's continuous efforts to embrace new technologies that will help feed a growing population while measuring sustainability, engage consumers in innovative ways to bridge the knowledge gap, and highlight initiatives that demonstrate agriculture's commitment to transparency.
Details:
Early registration, which ends April 8, for the one-and-a-half day event is $375 for Alliance members and $425 for non-members; $325 for those in government or academia.  Media and students interested in registering should contact Hannah Thompson.  Registration materials and a full event schedule can be found on the Summit website.
This year, the Summit will be held at the beautiful Intercontinental Hotel in Kansas City, Mo. Rooms are available at a special group rate of $164/night on the hotel's website or by calling 866-856-9717. The hotel cut-off deadline is also April 8, 2015.
As always, the Alliance's Stakeholders Summit will be social!  Be sure to follow the hashtag #AAA15 for updates about the event.  For general questions about the Summit please contact summit@animalagalliance.org or call (703) 562-1411.
Get involved:
Show your support for the Alliance's engagement efforts by becoming an official Summit sponsor today!   Current 2015 sponsors include Farm Credit, Vance Publishing, Meatingplace, American Feed Industry Association, Watt Global Media, United Soybean Board, Iowa Soybean Association, National Biodiesel Board, Food Industry Environmental Network, Kemin, Kansas Livestock Association, Brakke Consulting and the Kansas Farm Bureau.
Please contact Kay Johnson Smith, president and CEO, at (703) 562-1412 to find out how to get involved by sponsoring the event.
About the Alliance:
The Animal Agriculture Alliance is an industry-united, nonprofit organization that helps bridge the communication gap between farm and fork. We connect key food industry stakeholders to arm them with responses to emerging issues. We engage food chain influencers and promote consumer choice by helping them better understand modern animal agriculture. We protect by exposing those who threaten our nation's food security with damaging misinformation.
Find the Alliance on Facebook, Twitter, and YouTube.
Category: Press Releases
Tag: Stakeholders Summit,