Develop a "mindset relationship" at 2022 Stakeholders Summit
Registration closes May 6th
May 4, 2022 – It's time for a new approach to safeguarding the future of animal agriculture. "Mindset Relationship" is a strategy (and more importantly, a way of life) connecting those who produce food and who represent them with those who need food and energy to live active, productive and fulfilling lives. In his closing keynote at the Animal Agriculture Alliance's 2022 Stakeholders Summit, agricultural public relations professional, author and motivational speaker Aaron Putze will discuss this new concept and how attendees can implement it in their daily lives. Registration for the Summit, which will be held May 11-12 in Kansas City, Mo., is open through May 6 at bit.ly/AAA22Summit.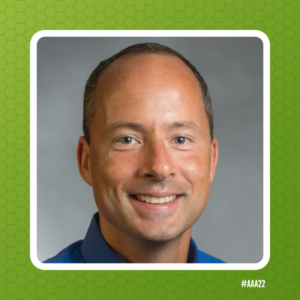 "The annual Stakeholders Summit is all about bringing everyone to the table to discuss hot-button issues and out-of-the-box ideas," said Hannah Thompson-Weeman, Alliance president and CEO. "We look forward to bringing the exciting event to a close with Aaron Putze's inspiring message and actionable approach to reaching our target audiences and having a greater impact in conversations about food and agriculture."
"Mindset Relationship" connects farmers and ranchers (and those who work on their behalf) with the broader population who enjoy the food produced by the agriculture community every day. The connector is people of influence. When we connect those three dots, agricultural endeavors and the people who live and work in this essential way of life succeed. This audience-minded presentation will summarize decades of experiences in the trenches seeking to win the hearts and minds of food-minded people — lessons learned by focusing on what's important – not urgent – on the way to building and cementing positive public perceptions about modern agriculture.
Aaron Putze, APR, serves as senior director of information and education for the Iowa Soybean Association. Raised on a crop and livestock farm near West Bend, Iowa, Putze earned degrees in communications, public relations and journalism from the University of Northern Iowa. He received his accreditation in public relations in 2001 from the Public Relations Society of America. Prior to joining the Iowa Soybean Association in 2010, Putze served as public relations director for the Iowa Farm Bureau and executive director of the Coalition to Support Iowa's Farmers. He's an accomplished public speaker, work-life coach and author of two books: "Destined for Greatness—The Story of Chuck Long & Resurgence of Iowa Hawkeyes' Football" and "YOU Are Destined for Greatness –Stories of Inspiration and Empowerment." Following his keynote, Putze will be available for a book signing.
Another exciting part of the 2022 Summit, themed "Come Together for Animal Ag: Be Informed, Be Ready, Be Here," is the recognition of 2021 College Aggies Online scholarship competition winners. The top individuals and clubs will be recognized in a ceremony on the afternoon of Wednesday, May 11. First place individuals and representatives will have the opportunity to share about their experience in the program and plans for their scholarship prizes. Save the date for the 2022 competition, kicking off on Monday, September 12! For more information and to sign up, visit the Alliance website.
Refer a friend to attend the Summit and you could both win $100! If you refer a friend to attend the 2022 Summit who has never attended a previous Summit and they list your name as the person who recommended them when they register for the event, you'll both be entered in a drawing to win a $100 gift card! Each referral will count as one entry and there is no limit on the number of entries for referrers. All registrations for the in-person event with a referral listed made until online registration closes on May 6 will be entered. Both the referrer and the person referred must be registered to claim the gift card.
Be sure to check the Summit website for the most up-to-date information. You can also follow the hashtag #AAA22 for periodic updates about the event. For general questions about the Summit, please contact summit@animalagalliance.org or call (703) 562-5160.
Thank you to our 2022 Summit sponsors: Watt Global Media, Farm Journal, Meatingplace, National Pork Producers Council, National Cattlemen's Beef Association, Smithfield, National Pork Board, Tyson Foods Inc., American Feed Industry Association, United Soybean Board, Elanco, Mountaire Farms, United Egg Producers, Dairy MAX, Farm Credit, The Partnership, Adisseo, Cobb Vantress, Inc., Protect the Harvest, Progressive Dairy, Clean Fuels Alliance America, Kemin, American Farm Bureau Federation, Empirical, American Veal Association, National Chicken Council, Trans Ova Genetics, Vivayic, Agri Beef, Edge Dairy Farmer Cooperative, Live Oak Bank, North Carolina Farm Bureau and Eggland's Best.
The Alliance also thanks the following members for their continued support of Summit and other Alliance programs: U.S. Poultry & Egg Association, Zoetis, Merck Animal Health, C.O.nxt, Diamond V, Genus PLC – PIC/ABS, Aviagen Group, Boehringer Ingelheim, Cargill, Dairy Farmers of America, Hendrix Genetics, Hy-Line North America, LLC, Iowa Soybean Association, JBS, Kanas Soybean Commission, Midwest Dairy, National Turkey Federation, Nutrien, Provimi North America, Inc. and Seaboard Foods.
Category: Press Releases
Tag: Stakeholders Summit,