Animal Agriculture Alliance 2022 Pre-Summit webinar series kicks off tomorrow

Refer a friend to register and you both could win $100!
April 5, 2022 – The Animal Agriculture Alliance's 2022 Stakeholders Summit Pre-Summit webinar series kicks off April 6 with webinars being held each Wednesday from 1:00 p.m. to 2:30 p.m. ET for the five weeks leading up to the main in-person event in Kansas City May 11-12. Discounted registration rates are available through April 17 at bit.ly/AAA22Summit.
"The Summit Preconference Webinar Series includes sessions touching on many of the key issues we see in animal agriculture and will prime attendees for the dynamic content and workshops scheduled for the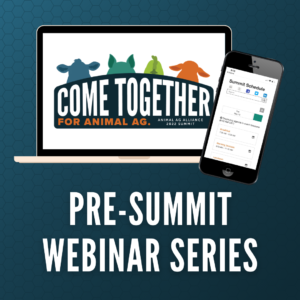 main event in Kansas City," said Casey Kinler, Alliance director, membership and marketing. "For those that are not able to join us in person, the webinar series also offers virtual attendees the opportunity to engage and network with other participants from all links along the food supply chain."
Preconference Webinar sessions will cover topics including trends in animal welfare and antibiotic use, environmental sustainability in the food chain and innovation in animal agriculture. The full Pre-Summit webinar series agenda includes:
April 6 – Be Informed: Current Trends in Animal Welfare and Responsible Antibiotic Use
April 13 – Sustainability: Where Are We Going and How Can We All Help Get There?
April 20 – Using Technology to Support Food Chain Sustainability
April 27 – Coming Together Along the Food Chain: Opportunities for Enhanced Collaboration
May 4 – Be Ready for What's Coming Next: Innovation in Animal Ag
Refer a friend to attend the Summit and you could both win $100! If you refer a friend to attend the 2022 Summit who has never attended a previous Summit and they list your name as the person who recommended them when they register for the event, you'll both be entered in a drawing to win a $100 gift card! Each referral will count as one entry and there is no limit on the number of entries for referrers. All registrations for the in-person event with a referral listed made until online registration closes on May 6 will be entered. Both the referrer and the person referred must be registered to claim the gift card.
The Alliance's annual Summit brings together thought leaders in the agriculture and food communities to discuss hot-button issues and out-of-the-box ideas to connect everyone along the food chain, engage influencers and protect the future of animal agriculture. The 2022 event is themed "Come Together for Animal Ag: Be Informed, Be Ready, Be Here." In-person and virtual attendance options are both available.
Be sure to check the Summit website for the most up-to-date information. You can also follow the hashtag #AAA22 for periodic updates about the event. For general questions about the Summit, please contact summit@animalagalliance.org or call (703) 562-5160. 
Get involved:
Show your support for the Alliance's outreach efforts by becoming an official Summit sponsor today! For 2022 sponsorship opportunities, please visit animalagalliance.org/initiatives/stakeholders-summit/. For more information, contact Casey Kinler at ckinler@animalagalliance.org.
Thank you to our 2022 Summit sponsors: Watt Global Media, Farm Journal, Meatingplace, National Pork Producers Council, National Cattlemen's Beef Association, National Pork Board, Tyson Foods Inc., American Feed Industry Association, United Soybean Board, Elanco, Mountaire Farms, United Egg Producers, Dairy MAX, Farm Credit, The Partnership, Adisseo, Cobb Vantress, Inc., Protect the Harvest, Progressive Dairy, Clean Fuels Alliance America, Kemin, American Farm Bureau Federation, Empirical, American Veal Association, National Chicken Council, Trans Ova Genetics, Vivayic, Agri Beef, Edge Dairy Farmer Cooperative, Live Oak Bank, North Carolina Farm Bureau and Eggland's Best.
The Alliance also thanks the following members for their continued support of Summit and other Alliance programs: U.S. Poultry & Egg Association, Zoetis, Merck Animal Health, C.O.nxt, Diamond V, Genus PLC – PIC/ABS, Aviagen Group, Boehringer Ingelheim, Cargill, Dairy Farmers of America, Hendrix Genetics, Hy-Line North America, LLC, Iowa Soybean Association, Kanas Soybean Commission, Midwest Dairy, National Turkey Federation, Nutrien, Provimi North America, Inc. and Seaboard Foods.
Category: Press Releases
Tag: Stakeholders Summit,