Animal Agriculture Alliance publishes new resources on understanding activism, farm security and consumer engagement
New website places up-to-date resources in the hands of farmers and ag advocates
January 8, 2020 – Today, the Animal Agriculture Alliance announced its new website and updated resources to celebrate the beginning of a new decade. With the mission of the Alliance being to bridge the communication gap between farm and fork, its website features resources to help farmers, ranchers, veterinarians and supporters of the industry engage in any and all conversations about animal agriculture. To explore the website, visit https://animalagalliance.org.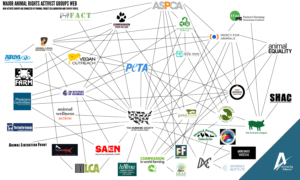 Issues such as animal welfare, antibiotic use, sustainability, nutrition and animal rights activism are covered throughout the Alliance's website, including in the updated and reorganized Resource Center. "The site is very clean and intuitive with terrific content as always," said Jamie Mara, director of strategic communications at Edge Dairy Farmer Cooperative and Alliance member. "The website is a very helpful resource for our team as I'm sure it is for others."
One of the Alliance's newly updated resources is the animal rights activist groups web. The web details how activist groups are connected through funding, project collaboration and flow of staff and volunteers. "The purpose of this web is to show that while some groups publicly represent themselves as moderate and others are more upfront about their radical views, they are all connected with the same agenda of ending animal agriculture," said Kay Johnson Smith, Alliance president and CEO. To view the web, visit https://animalagalliance.org/initiatives/monitoring-activism.
Alliance members have access to even more resources, including farm and facility security information. To learn more about becoming a member, visit https://animalagalliance.org/support-us/membership.
About the Alliance:
The Animal Agriculture Alliance is an industry-united, nonprofit organization that helps bridge the communication gap between farm and fork. We connect key food industry stakeholders to arm them with responses to emerging issues. We engage food chain influencers and promote consumer choice by helping them better understand modern animal agriculture. We protect by exposing those who threaten our nation's food security with damaging misinformation. Find the Alliance on Facebook, Twitter, and Instagram.
Category: Press Releases
Tag: Activist Web,