Animal Agriculture Alliance makes 2020 Virtual Summit recordings publicly available
Start the new year off "Primed and Prepared," mark your calendar for the 2021 event
January 13, 2021 – The Animal Agriculture Alliance announced today that session recordings from the first-ever Virtual Stakeholders Summit, held in May 2020, are now publicly available. The 2020 Virtual Summit, themed "Primed & Prepared," focused on equipping food and agriculture stakeholders with the tools needed to bridge the gap between farm and fork.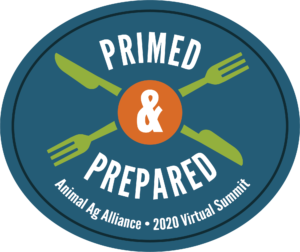 "The Alliance's annual Stakeholders Summit brings together thought leaders in animal agriculture to discuss hot-button issues and out-of-the-box ideas," says Kay Johnson Smith, Alliance president and CEO. "Our 2020 Virtual Summit attracted our largest crowd to date and addressed key topics that impact every link of the food supply chain including sustainability, nutrition, and animal welfare. If you weren't able to join us live last year, watching the recorded content is a great way to catch up on the valuable conversations and get excited for the 2021 Virtual Summit coming up in May."
Highlights from the impressive lineup of speakers include:
Session recordings from the 2020 Virtual Summit are available here. To read a condensed overview of insights shared at the event, check out the highlights report at animalagalliance.org/resource/2020-stakeholders-summit-highlights-report.
The 2021 Virtual Summit, themed "Obstacles to Opportunities" is set primarily for May 5-6. Challenging times. Unprecedented times. Uncertain times. We're all over the clichés. But we're far from over the impact COVID-19 and 2020 in general have had on agriculture and the food industry. However, there is hope. With the right tools we can ensure the food chain is stronger than ever. We can use this time to hone our messages, fine-tune our strategies and connect, engage and protect like never before. Now is the time to turn the obstacles of 2020 into opportunities for the decades to come, and 2021 Virtual Summit attendees will leave with the right tools and ideas to do just that.
Registration for the 2021 Virtual Summit opens February 1. For more information about the Virtual Summit, visit animalagalliance.org/initiatives/stakeholders-summit/ or follow #AAA21 on social media for updates.
Thank you to our 2021 Summit sponsors: Watt Global Media, Farm Journal, Meatingplace, National Pork Producers Council, National Biodiesel Board, Smithfield, American Feed Industry Association, Dairy MAX, Cobb Vantress, Inc., Progressive Dairyman, Kemin, National Chicken Council, Country Folks, The National Provisioner, and Eggland's Best.
The Alliance also thanks the following members for their continued support of Summit and other Alliance programs: U.S. Poultry & Egg Association, Zoetis, Merck Animal Health, C.O.nxt, Diamond V, Genus PLC – PIC/ABS, Aviagen Group, Boehringer Ingelheim, Cargill, Dairy Farmers of America, Hendrix Genetics, Hy-Line North America, LLC, Iowa Soybean Association, National Pork Board, National Turkey Federation, Nutrien, Provimi North America, Inc. and Seaboard Foods.
Category: Press Releases
Tag: Stakeholders Summit,