Animal Agriculture Alliance 2016 Stakeholders Summit shares how to protect the future of animal agriculture
Speakers discuss how animal rights activists spin the truth and how to better share agriculture's story
 May 10, 2016 – The theme for the second and final day of the Animal Agriculture Alliance's 2016 Stakeholders Summit, which concluded May 6, was how attendees can help protect the future of animal agriculture.
The first panel featured three theology experts discussing how animal rights groups use religion to negatively influence consumers about eating meat, milk and eggs. Panelists included:
Wes Jamison, PhD, Associate Professor of Public Relations, Palm Beach Atlantic University
Walter Kaiser, PhD, President Emeritus and Distinguished Professor of Old Testament and Ethics, Gordon-Conwell Theological Seminary
Paul Copan, PhD, Professor and Pledger Family Chair of Philosophy and Ethics, Palm Beach Atlantic University
Jamison guided the panel discussion introducing the idea of "meism" which he described as "cherry picking ideas based on aesthetic appeal."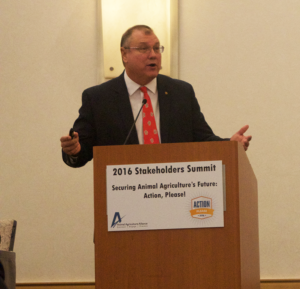 "Your primary opponents have no fear in using religion for persuasive purposes," said Jamison. But if they're "going to use a source they need to use it correctly."
"There is a plain misunderstanding or deliberate reinterpretation of the text," said Kaiser. "Activists retranslate God's mandate to say something different in their favor" and "cherry pick certain phrases and give them a spin not aligned with the author's intentions."
Copan gave the audience instances of vegetarian and vegan activists "spinning scripture" and followed with examples from the Bible in which Jesus fully supports humans using animals for food.
"You have nothing to fear," said Jamison as he wrapped up the panel discussion with a reassuring message. The Bible "gives you permission [to use animals] and applauds you for doing so. You have the truth on your side."
The next speaker dedicated 2015 to sharing the truth about animal agriculture on social media by sharing one photo each day using the hashtag #farm365.
"To the consumer, our side of the story doesn't exist unless we tell it," said Andrew Campbell, founder of Fresh Air Media and Canadian dairy farmer.
Soon after Campbell began sharing agriculture's story, he experienced backlash from the animal rights community. He credited the support from the agriculture industry as the reason he was able to fight through the activist noise and continue sharing agriculture's story.
"When you see the advocates out there – think how you can support them. It doesn't have to be publicly," said Campbell. "I was able to take that picture every day because the industry had my back."
The second panel of the day discussed how to step up and find solutions to pressing issues facing animal agriculture. Panelists included:
Gavin Gibbons, Vice President, Communications, National Fisheries Institute
Kristen Coady, Senior Director, Corporate Communications, Dairy Farmers of America
Joe Swyers, New York dairy farmer
Gibbons shared his strategies with getting an accurate story told in the media regarding mercury in seafood.
"Agreeing to disagree with the media is the wrong strategy," said Gibbons. "The press was wrong about what they were saying, so we confronted them. The strategy was controversial, but it worked."
By monitoring the media and reaching out to editors and reporters when he became aware someone was working on a story about seafood, Gibbons was able to change the number of positive to negative stories about seafood from 1:1 before 2010 to 105:1 in 2016.
Dairy Farmers of America, represented by Coady, took a proactive approach when an animal rights group captured undercover video footage from a dairy farm and chose to release the video before the activist group did.
"As an agriculture industry we need to stop being so nice," said Coady. "Look at what the activists are doing and how we can use their tactics against them."
Swyers became aware of an anti-modern agriculture book being used in his daughter's curriculum at school. With the help of the local Extension, he created his own curriculum to teach the students about animal agriculture then invited the students to come to his farm to experience agriculture first-hand.
Swyers said the students walked away with a new appreciation for agriculture. "We addressed all their questions and concerns," said Swyers.
The final panel of the conference explored ways to enlist allies to help protect animal agriculture from misinformation. Panelists included:
Mia Roberts, Vice President – Strategic Operations, American Egg Board
Lou Nave, Executive Director, Farm Animal Care Coalition of Tennessee
Jeff Kayser, Director of Production, Suidae Health and Production Swine Veterinary Clinic
Roberts explained how the American Egg Board is "taking education initiatives to the next level" by partnering with Discovery Education to share virtual tours of egg farms with students across the country.
Nave shared how the Farm Animal Care Coalition of Tennessee creates relationships with surrounding law enforcement to be better informed about animal care issues.
"Don't wait until a crisis happens to make sure the relationships are formulating and you're engaged with them," said Kayser as he agreed with Nave's points about enlisting law enforcement as allies.
Kayser also emphasized the importance of having a crisis management plan and to always be proactive and conduct personal audits for continuous improvement.
The Summit concluded with attendees committing to an action pledge to help secure a bright future for animal agriculture.
Recorded presentations from the 2016 Summit will be posted as they are available at http://agtoday.us/2016-aaa-summit.
The 2017 event is set for May 3-4 in Kansas City, Mo. For more information, contact the Alliance office at 703-562-5160 or info@animalagalliance.org.
Thank you to all our Summit sponsors: U.S. Poultry & Egg Association, Meatingplace, Farm Journal Media, Watt Global Media, Farm Credit, American Feed Industry Association, National Pork Board, National Cattleman's Beef Association, Alltech, Zoetis, Diamond V, Charleston|Orwig, National Pork Producers Council, Merck Animal Health, Smithfield, Provimi, Bayer Animal Health, PotashCorp, Seaboard Foods, Iowa Soybean Association, Aviagen, Cattle Empire, United Soybean Board, Elanco Animal Health, Council for Biotechnology Information/GMO Answers, The National Turkey Federation's 20 by 2020 Project, United Egg Producers, Kemin Industries, American Veal Association, Cobb-Vantress, GNP Company, Agri Beef Co., National Chicken Council, North Carolina Farm Bureau Federation, Dairy MAX, Live Oak Bank, Millennium Research Inc., Eggland's Best and the Food Industry Environmental Network.
About the Alliance:
The Animal Agriculture Alliance is an industry-united, nonprofit organization that helps bridge the communication gap between farm and fork. We connect key food industry stakeholders to arm them with responses to emerging issues. We engage food chain influencers and promote consumer choice by helping them better understand modern animal agriculture. We protect by exposing those who threaten our nation's food security with damaging misinformation. Find the Alliance on Facebook and Twitter.
Category: Press Releases
Tag: Stakeholders Summit,