2020 Animal Ag Alliance Stakeholders Summit set for May 7-8 goes virtual
Registration now open for Virtual Summit
March 24, 2020 – The Animal Agriculture Alliance announced today that its 2020 Stakeholders Summit is going virtual in response to ongoing public health concerns around hosting large events. The Virtual Summit, still being held May 7-8, will include the same exciting speaker lineup that was planned for the in-person event with sessions covering sustainability, animal welfare, influencer engagement, preparing for animal rights activist campaigns and other hot topics.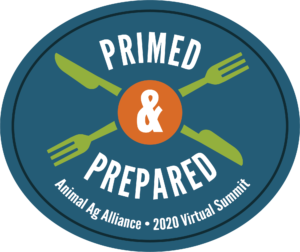 "The Alliance team has been closely monitoring the effect of COVID-19 on travel and events and considering what impact this could have on the 2020 Summit," said Kay Johnson Smith, Alliance president and CEO. "Our number one priority is to ensure the health and safety of our members and attendees. With that in mind, we have decided to move the 2020 Summit to a virtual-only event. This will allow the Alliance to share the excellent content we hoped to cover at Summit while respecting new regulations and public health guidelines for holding events. We are excited for the opportunity to deliver the high-quality, thought-provoking speakers and sessions that our Summit is known for in a new virtual format!"
The Alliance's annual Summit brings together thought leaders in the agriculture and food industries to discuss hot-button issues and out-of-the-box ideas to connect everyone along the food chain, engage influencers and protect the future of animal agriculture. Attendees will leave the 2020 Virtual Summit, themed Primed & Prepared, with the tools they need to take action and be part of any and all conversations that could impact the future of animal agriculture and their business.
"The Summit, now in its 19th year, is an integral part of the Alliance's work to bridge the communication gap between farm and fork," said Hannah Thompson-Weeman, Alliance vice president of communications. "The event is our opportunity to bring together every link along the food chain to learn about the most pressing issues of today and tomorrow and how we can all be primed and prepared to shape the future of animal agriculture. We're embracing the challenge of translating the value of Summit into a virtual platform and appreciate the support of our speakers, attendees, sponsors and members as we navigate the shift."
Registration is now open for Virtual Summit attendees who were not already registered for the in-person Summit. Virtual Summit registration will give attendees exclusive access to 13 hours of live, dynamic content spread out among a series of preconference webinars and the two-day virtual event. Recordings from each session will also be available to confirmed virtual attendees only through the end of 2020. The Alliance team is working to ensure attendees enjoy digital networking opportunities that are more valuable than ever in today's challenging environment.
Be sure to check the Virtual Summit website for the most up-to-date Virtual Summit information and the full agenda. You can also follow the hashtags #AAA20 and #PrimedAndPrepared for periodic updates about the event. For general questions about the Summit please contact summit@animalagalliance.org or call (703) 562-5160.
Get involved:
Show your support for the Alliance's outreach efforts by becoming an official Summit sponsor today! For more information, contact Allyson Jones-Brimmer at ajonesbrimmer@animalagalliance.org.
Thank you to our 2020 Summit sponsors: Watt Global Media, Farm Journal, Meatingplace, National Pork Producers Council, National Cattlemen's Beef Association, Smithfield, National Pork Board, American Feed Industry Association, United Soybean Board, The National Provisioner, Elanco, Country Folks, Dairy MAX, Farm Credit, National Biodiesel Board, United Egg Producers, Cobb Vantress, Inc., Protect the Harvest, Progressive Dairyman, Agri Beef, American Farm Bureau Federation, American Veal Association, Empirical, Kemin, National Chicken Council, Trans Ova Genetics, Vivayic, Live Oak Bank, Mountaire Farms, North Carolina Farm Bureau, Brakke Consulting, Food Industry Environmental Network and Eggland's Best.
The Alliance also thanks the following members for their continued support of Summit and other Alliance programs: U.S. Poultry & Egg Association, Zoetis, Alltech, Inc., Cattle Empire, LLC, Charleston|Orwig, Diamond V, Genus PLC – PIC/ABS, Hy-Line North America LLC, Iowa Soybean Association, Merck Animal Health, National Turkey Federation, Nutrien, Aviagen Group, Boehringer Ingelheim, Cargill, Dairy Farmers of America, Hendrix Genetics, Provimi North America, Inc. and Seaboard Foods.
About the Alliance:
The Animal Agriculture Alliance is an industry-united, nonprofit organization that helps bridge the communication gap between farm and fork. We connect key food industry stakeholders to arm them with responses to emerging issues. We engage food chain influencers and promote consumer choice by helping them better understand modern animal agriculture. We protect by exposing those who threaten our nation's food security with damaging misinformation. Find the Alliance on Facebook, Twitter, and Instagram.
Category: Press Releases
Tag: Stakeholders Summit,